Health Highlights: Sept. 19, 2011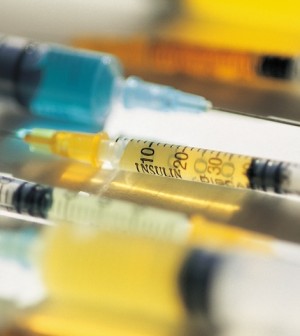 Here are some of the latest health and medical news developments, compiled by the editors of HealthDay:
Bone Drug OK'd for Cancer Patients on Hormone Therapy
The injectable bone-strengthening drug Prolia has received expanded U.S. approval for use in patients undergoing hormone therapy to treat breast and prostate cancer.
The new use for the drug (generic name denosumab) is meant to reduce the risk of bone fractures in prostate cancer patients undergoing androgen-deprivation therapies and breast cancer patients taking drugs that stop estrogen production, Bloomberg News reported.
The U.S. Food and Drug Administration decision was announced Monday by California-based Amgen Inc. Prolia received FDA approval for treating osteoporosis in 2010.
"Bone loss and fractures are recognized adverse effects of hormone ablation therapies but we have not had an approved treatment option to prevent these problems for our patients," Dr. Matthew Smith, director of the Genitourinary Malignancies Program at Massachusetts General Hospital Cancer Center in Boston, said in an Amgen news release, Bloomberg reported.
—–
Whooping Cough Shots Protect for Only a Few Years: Study
The protection offered by the whooping cough vaccine decreases after about three years, according to a preliminary study.
Researchers looked at children in a
California county and found that the risk of developing whooping cough was as much as 20 times higher among those who were given the recommended series of vaccinations three or more years earlier. Those who'd received the vaccine more recently were well protected, the Associated Press reported.
The results were presented Monday at an infectious diseases conference in Chicago.
The findings appear to support school rules requiring students to get the whooping cough vaccination periodically, the AP reported. California had a large increase in whooping cough cases last year and this fall schools in the state turned away thousands of students who weren't up to date on their shots.
—–
New Technology Improves Early Stage Cancer Surgery: Report
A new technology that makes cancer cells glow can increase the amount of early stage cancer that surgeons can detect and remove from patients.
Cancer cells need folic acid to grow. Purdue University researchers found that adding a glowing dye to folic acid caused cancer cells to light up, CBS News reported.
The technology isn't approved in the United States, but doctors in the Netherlands have performed 20 successful trial surgeries in ovarian cancer patients. The procedure enables the removal of five times more cancer during surgery, according to some doctors.
"We know (that) the more aggressive you are in the surgical removal of the tumor, the better the outcome of the patient will be," said Dr. Gooitzen van Dam, a surgeon with the University of Groningen, CBS News reported.
—–
Gamers Decipher Enzyme of AIDS-Like Virus
The structure of an enzyme of an HIV-like virus has been deciphered by online gamers playing a video game in which the goal is to unfold chains of amino acids, the building blocks of proteins.
Scientists have been trying for a decade to produce an accurate model of a monomeric protease enzyme. The gamers accomplished the feat in just three weeks, Agence France-Presse reported.
The achievement could help efforts to develop new antiretroviral drugs to treat HIV/AIDS patients.
"We wanted to see if human intuition could succeed where automated methods had failed," Firas Khatib, of the University of Washington's biochemistry lab, said in a news release, AFP reported. "The ingenuity of game players is a formidable force that, if properly directed, can be used to solve a wide range of scientific problems."
The study was published Sunday in the journal Nature Structural & Molecular Biology.
​