Health Highlights: Oct. 17, 2012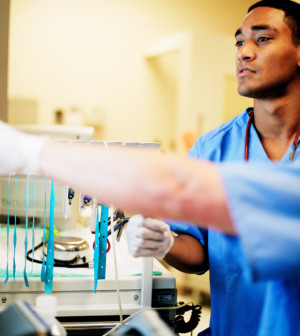 Here are some of the latest health and medical news developments, compiled by the editors of HealthDay:
TB Cases, Deaths Fall: WHO
The number of people worldwide newly diagnosed with tuberculosis fell from 8.8 million in 2010 to 8.7 million in 2011, while deaths from the disease fell from 1.45 million to 1.4 million, the World Health Organization says.
Even though the number of new TB cases and deaths declined in all six WHO regions, the agency said that Africa and Europe are not on track to meet the goal of halving 1990 levels of TB death in the next three years, Bloomberg News reported.
The WHO said only 20 percent of patients with multi-drug resistant TB have been diagnosed, and also said that the first new TB medicines in more than 40 years may become available in 2013.
"We are now at a crossroads between TB elimination within our lifetime, and millions more TB deaths," Mario Raviglione, director of the WHO's Stop TB Partnership, said in a statement, Bloomberg reported.
—–
Study Callenges Cranberry Juice Claims
Claims that cranberry juice prevents or treats bladder and urinary tract infections (UTIs) have been exaggerated, according to a new study.
Researchers reviewed 24 studies that included nearly 5,000 people and found that cranberry juice may be helpful only in women with recurrent UTIs, ABC News reported.
Typical women would need to drink at least two glasses of cranberry juice a day over a long period of time to prevent a UTI, said the study authors, who added that it's unclear whether cranberry-based products such as pills would prove more beneficial than juice.
"More studies of other cranberry products such as tablets and capsules may be justified, but only for women with recurrent UTIs, and only if these products contain the recommended amount of active ingredient," said lead researcher Ruth Jepson of the University of Stirling in the U.K., ABC News reported.
The study was published Oct. 16 in The Cochrane Library.
—–
General Health Screenings Not Beneficial: Study
General health screenings that are part of your annual checkup may not be as beneficial for healthy people as you think, according to researchers who conducted what is believed to be the first large review of existing studies on the subject.
The paper's authors reviewed data from more than 180,000 adults in the U.S. and Europe who took part in 14 randomized trials and were followed for an average of just over five years, the Wall Street Journal reported.
Some of the patients were offered some type of health screening while others were not. There were many different types of screening, ranging from physical exams, family histories and questionnaires to blood and lung function tests.
The review found that screenings had no effect on overall death risk or on the risk of death specifically from heart disease, stroke or cancer, and that screenings had no effect on preventing disease, the WSJ reported.
The findings were published Tuesday by the nonprofit Cochrane Collaboration, a international network that conducts reviews to help improve health care.
"I would say that this is the most reliable evidence on the topic and it doesn't seem to show any convincing benefits," said Dr. Lasse Krogsboll, the paper's first author and a physician at the Nordic Cochrane Centre in Copenhagen, Denmark.
"Many people would consider (the results) counterintuitive," Krogsboll noted. "Many people see their body the way they see the car — you take it for a checkup, so you should do that with your body. But biology isn't that simple."
The findings raise questions about whether spending on preventive health services should be more focused on screening tests known to be effective, according to the WSJ.
The review was well done but had limitations, including the fact that many of the studies started decades ago and didn't assess what is provided in checkups today, said Michael LeFevre, co-vice chair of the U.S. Preventive Services Task Force. He was not involved in the review.
For example, guidelines for treating high blood pressure and cholesterol have changed over the years.
Even so, the review shows "that just having somebody come in for a (general) checkup doesn't help," LeFevre told the WSJ.
He suggested that the focus should be on specific preventive services and interventions proven to be effective. For example, healthy people would be better off talking with their doctor about quitting smoking or limiting alcohol consumption rather than doing a treadmill stress test.
—–
Halloween Garb From China Seized Due to Lead Levels
Nearly 1,400 Chinese-made pirate costumes have been seized after high levels of lead were found in the buttons and trim, U.S. officials say.
The children's Halloween costumes, which had 11 times the legal limit for lead, will be destroyed, Mike Milne, a spokesman for U.S. Customs and Border Protection in Seattle, told mnsbc.com.
He said the shipment was singled out for inspection because of a past violation, but did not identify the violator.
Children's health could have been at risk if they put the buttons or the trim in their mouths. High levels of lead can cause vomiting, coma or convulsions, while low levels can cause learning difficulties and an inability to pay attention, msnbc.com reported.
—–
​