Health Highlights: Nov. 9, 2009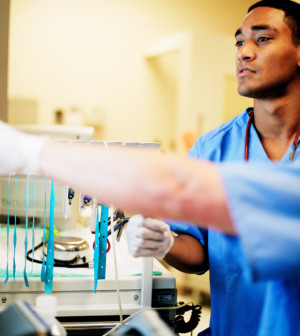 Here are some of the latest health and medical news developments, compiled by editors of HealthDay:
HIV/AIDS Leading Killer of Childbearing-Age Women: WHO
HIV/AIDS is the leading cause of disease and death worldwide among women ages 15 to 44, according to a World Health Organization global study of women's health released Monday.
The U.N. agency said unsafe sex is the leading risk factor in developing countries, followed by lack of access to contraceptives and iron deficiency, the Associated Press reported. Worldwide, unsafe sex is linked to one in five deaths among women in this age group.
"Women who do not know how to protect themselves from such infections, or who are unable to do so, face increased risks of death or illness," the study said. "So do those who cannot protect themselves from unwanted pregnancy or control their fertility because of lack of access to contraception."
The study findings underscore the inequality in health care faced by females of all ages because of poverty, less access to health care and cultural beliefs that put a priority on male well-being, the AP reported.
"We will not see a significant improvement in the health of women until they are no longer recognized as second-class citizens in many parts of the world," WHO chief Dr. Margaret Chan said at a news conference.
—–
Needle-Exchange Funding Bill Criticized
A bill to lift a ban on the use of U.S. government money for needle-exchange programs includes a provision that could still prevent most of the country's approximately 200 exchanges from getting any federal funding.
That's because the bill — which has passed the House and a Senate subcommittee and awaits Senate action — would forbid federally financed needle exchanges from being within 1,000 feet of a school, park, library, college, video arcade or any other place where children are likely to gather, The New York Times reported.
There are few, if any, places that could house a needle exchange under those rules, according to officials at exchanges in major cities. The same is true for many smaller, rural needle exchanges.
"This 1,000-foot rule is simply instituting the ban in a different form," Rebecca Haag, executive director of the AIDS Action Council advocacy group, told The Times. "Clearly the intent of this rule is to nullify the lifting of the ban."
—–
Assess School Food Safety: Lawmaker
A U.S. lawmaker wants federal investigators to assess the risk for E. coli contamination in food used for school meal programs.
The concern expressed by Rep. George Miller, D-Calif., the chairman of the House Education and Labor Committee, is the result of a recent 11-state E. coli outbreak that killed at least two people and sickened about two dozen others, the Associated Press reported.
While no schools were involved in the outbreak, which was linked to ground beef produced by a New York state company, Miller asked the Government Accountability Office to determine what protections are in place at the local, state and federal levels to ensure the safety of school meals.
He also wants the GAO, the investigative arm of Congress, to compare the safety and quality of ground beef used in schools with ground beef sold to restaurants and other commercial purchasers, the AP reported.
In September, the GAO released a report that said federal officials failed to inform schools about recalls of potentially tainted canned vegetables and peanut products. As a result, school cafeterias may have unknowingly used the products in meals.
—–
Teen Who Fled Treatment Now Cancer-Free
The Minnesota teen who fled the state with his mother in order to avoid chemotherapy for Hodgkin's lymphoma completed his treatment Friday and is cancer-free, according to his family.
Daniel Hauser, 13, cited his religious beliefs for stopping treatment after one session in February and fleeing his home. On his return, he underwent court-ordered chemotherapy and then radiation therapy, the Associated Press reported.
Brown County Family Services and the teen's doctor have been asked to submit reports to a Brown County judge. If the judge is satisfied with the information in the documents, Daniel's case will likely be closed.
—–
FDA Issues Warning Letters to Flavored Cigarette Sellers
Warning letters have been sent to companies using Web sites to sell illegal flavored cigarettes to U.S. consumers, the Food and Drug Administration said Friday.
A ban on the sale of candy- or fruit-flavored cigarettes that took effect Sept. 22 is meant to reduce the number of children and teens who start smoking.
The companies that received the letters were told to stop marketing and selling flavored cigarettes or to take other actions to make sure the products comply with the law. Failure to heed the warning could result in seizure or injunction. The companies were given 15 days to tell the FDA what measures they've taken.
"FDA takes the enforcement of this flavored cigarette ban seriously," Dr. Lawrence R. Deyton, director of FDA's Center for Tobacco Products, said in an agency news release. "These actions should send a clear message to those who continue to break the law that FDA will take necessary actions to protect our children from initiating tobacco use."
​