Health Highlights: Nov. 20, 2009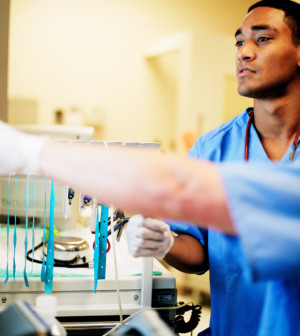 Here are some of the latest health and medical news developments, compiled by editors of HealthDay:
U.S. Military Studying PTSD Risk Factors
U.S. military researchers are trying to identify genetic and other factors that may help single out soldiers most at risk for post-traumatic stress disorder, or PTSD.
A better understanding of underlying contributing causes might help reduce the incidence of PTSD and improve treatment.
"Right now, we can't determine with certainty who will and who won't develop PTSD," Paula Schnurr, deputy executive director of the Department of Veterans Affairs' National Center for Posttraumatic Stress Disorder, told the Associated Press. "Perhaps with better measures, we can get closer."
Members of certain Marine and Army units are undergoing extensive physical and mental assessments — including stress exams, brain imaging and genetic testing — before combat deployment. The soldiers are monitored in the war zones and assessed again when they return home.
The purpose of learning more about factors that contribute to PTSD is not to bar certain people from military service, Cmdr. Bryan Schumacher, the 1st Marine Division's top doctor, told the AP. If the research identifies ways to prevent PTSD, those who are vulnerable could be given special training to reduce their risk, he explained.
—–
University of Nebraska May Restrict Stem Cell Research
The University of Nebraska may become the first such state institution in the United States to impose limits on stem cell research that are more restrictive than what state and federal laws allow.
The university's board of regents was to vote Friday on whether to limit stem cell experiments to 21 cell lines approved by the Bush administration in 2001, The New York Times reported. Since 2001, researchers have created hundreds of cell lines that could be eligible for federal financing from the Obama White House.
Board members have faced weeks of intense lobbying from opponents and supporters of embryonic stem cell research.
Restrictions on stem cell research would seriously harm the university's reputation and its ability to attract stem cell scientists and funding, warn advocates of embryonic stem cell research.
"It would taint this university for a long time," Dr. Harold M. Maurer, chancellor of the University of Nebraska Medical Center in Omaha, told the Times.
—–
Trial of Embryonic Stem Cell Therapy for Eye Disease Planned
U.S. scientists have asked the federal government to approve human trials of embryonic stem cell therapy to treat a common form of juvenile blindness.
The researchers plan to inject retinal cells derived from embryonic stem cells into 12 patients who are losing their sight to Stargardt disease, which is currently untreatable, the Agence France Presse reported.
Experiments in mice and rats showed that this treatment prevented further vision loss without causing any harmful side effects, according to Dr. Robert Lanza, chief scientific officer at Advanced Cell Technology.
He said the trial could begin as soon as early 2010 if it's approved by the U.S. Food and Drug Administration, AFP reported.
The FDA has received only one other proposal for a clinical trial of stem cell therapies. That project, which would treat spinal injury patients, is not expected to begin before late 2010.
—–
Vicks Nasal Spray Recalled Due to Bacteria
Proctor & Gamble Co. is recalling about 120,000 bottles of its Vicks Sinex nasal spray due to bacteria the company found in some samples during testing, the Associated Press reported Thursday.
According to P & G spokesman Tom Millikin, the voluntary recall is a precaution after small amounts of the B. cepacia bacteria were found in the non-prescription spray in a routine check at a plant in Germany. The recall involves three lots of the spray sent to the United States, Germany, and the United Kingdom. Regulatory agencies in all three countries have been informed, the company asid.
No illnesses linked to the contamination have yet been reported, Millikin said, but the bacteria could harm people with chronic lung ailments or weak immune systems.
—–
Flu Worries Shouldn't Affect Travel Plans: CDC
The threat of the H1N1 flu shouldn't prevent people from traveling this holiday season, says the U.S. Centers for Disease Control and Prevention, which on Thursday launched a public education campaign about staying healthy while traveling.
"The holidays are one of the busiest travel times of the year," Dr. Anne Schuchat, director of CDC's National Center for Immunization and Respiratory Diseases, said in a news release. "People are in close contact – whether they're on a plane, train, ship or just visiting with loved ones. This campaign provides practical advice to help travelers prepare for their trips and stay healthy during their holiday travel."
The agency offers the following advice:
Travel only when you feel well.
Get vaccinated for flu (both seasonal flu and H1N1 flu if you're in a priority group).
Wash your hands often.
Cover your coughs and sneezes with a sleeve or tissue.
"We know that flu – and specifically H1N1 this year – is a big concern for people, but flu shouldn't ruin the holidays," Schuchat said. "By practicing a little prevention, people can enjoy their holidays and stay well at the same time."
The CDC's campaign will run through the holiday season and use a variety of media, including posters at major airports, border crossings and ports of entry.
​