Health Highlights: May 28, 2010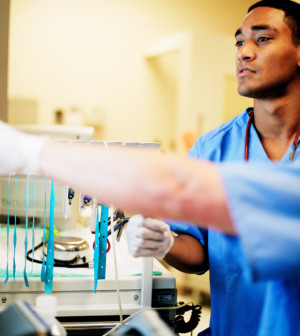 Here are some of the latest health and medical news developments, compiled by the editors of HealthDay:
For Some, Heroin Treatment Beats Methadone to Ease Addiction
For some addicts, heroin works better than methadone for kicking the habit, a new report finds.
British scientists studied 127 heroin addicts who had been unable to quit their addiction and gave them either injectable heroin or methadone under medical supervision, the Associated Press reported.
After six months, the methadone users were much more likely to be using heroin illegally than the group given heroin, according to a study published May 28 in The Lancet.
Britain currently offers heroin to addicts at a few clinics, and some say the results of this trial may provide the evidence needed to expand the strategy.
Heroin could be an alternative when methadone, a heroin substitute, fails, the researchers say. "This is a treatment of last resort," said the study's lead author, John Strang of the National Addiction Center and the Institute of Psychiatry at King's College London.
In an accompanying commentary, Thomas Kerr of St. Paul's Hospital in Vancouver, Canada, said it was "unethical" to withhold treatments like heroin injection to people who need them, the AP said.
—–
Americans Need Some Enlightening on Mental Illness: CDC
Most Americans (89 percent) believe that treatment can help the mentally ill to lead normal lives, but many fewer (57 percent) think the public is caring and sympathetic to those needing psychiatric assistance, a new government survey finds.
The findings vary from state to state and suggest a need for public education programs aimed at reducing the stigma surrounding mental illness, according to the May 28 Morbidity and Mortality Weekly Report from the U.S. Centers for Disease Control and Prevention. Negative stereotypes often keep people from seeking treatment, the authors said.
The CDC studied responses to surveys conducted in 35 states, the District of Columbia and Puerto Rico. Those most likely to strongly agree that treatment is effective lived in the District of Columbia (74 percent), Louisiana (72 percent) and Oregon (71.7 percent). Only a quarter of Puerto Ricans (25.7 percent) agreed with the statement.
The largest percentage of those who strongly agreed that people feel empathy toward the mentally ill lived in Louisiana (32.7 percent), Hawaii (29.7 percent) and Mississippi (28 percent). The least likely to agree lived in Puerto Rico (7.2 percent).
"Geographic variability in attitudes toward mental illness and its causes should be a topic of further study," the authors wrote.
—–
AAP Retracts Support for 'Ritual Nick' of Girls' Genitalia
The American Academy of Pediatrics (AAP) has retracted a recent policy statement endorsing a "ritual nick" of girls' genitalia in place of more extensive cutting, and instead issued a statement condemning all forms of female genital mutilation.
"The AAP reaffirms its strong opposition to FGC [female genital cutting] and counsels its members not to perform such procedures," its board of directors said in a statement Thursday. "As typically practiced, FGC can be life-threatening. Little girls who escape death are still vulnerable to sterility, infection, and psychological trauma.
"The AAP does not endorse the practice of offering a 'clitoral nick.' This minimal pinprick is forbidden under federal law and the AAP does not recommend it to its members," the statement added.
Dr. Judith S. Palfrey, AAP president, said the organization opposes "all forms of female genital cutting, both here in the U.S. and anywhere else in the world."
Referring to criticism of the AAP's April statement, she said one good thing has come from the controversy: This has "raised the world's awareness about this harm to young women," she said.
—–
Weight Loss in Childhood Cuts Women's Odds for Adult Diabetes
A 16-year study involving almost 110,000 women finds that overweight girls who shed the excess pounds greatly cut their odds for type 2 diabetes as adults.
The study, funded by the U.S. National Institutes of Health, tracked the health of women enrolled in the ongoing Nurses Health Study from 1989 to 2005. The nurses were asked to describe their body shape at ages 5, 10 and 20 and also provide their weight at age 18, along with their current height and weight.
According to the researchers, women who were overweight as girls were much more likely to develop type 2 diabetes as adults. For example, women who were a size 6 at age 10 were almost three times more likely to be diabetic as adults, and those who were obese at age 18 (a body-mass index of 30 or over) had an almost ninefold greater risk of developing the illness in adulthood, compared to 18-year-olds of normal weight.
But the study, published in the June issue of Diabetes Care, also found that losing weight during childhood greatly cut the odds. While females who were overweight at ages 5, 10 and 20 were 15 times more likely to become diabetic as adults compared to normal-weight girls, those who were overweight at age 10 but not overweight as adults were no more likely to develop the illness.
"These findings suggest that ensuring that overweight kids reverse their weight gain is critical to limiting their future risk of diabetes as adults," study author Edwina Yeung, of the National Institute of Child Health and Human Development division of epidemiology, statistics and prevention research, said in an institute news release.
​