Health Highlights: May 26, 2010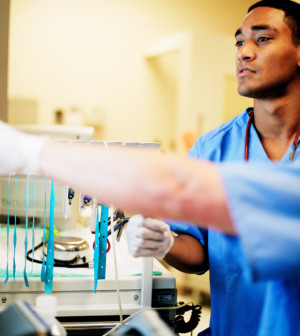 Here are some of the latest health and medical news developments, compiled by the editors of HealthDay:
Experimental Drug Boosts Cure Rate for Hepatitis C
A new drug under development for hepatitis C greatly improved the cure rate for patients while cutting the time needed for treatment, according to the drug's maker, Vertex Pharmaceuticals.
As reported by The New York Times, about 75 percent of patients enrolled in the trial who took the drug, telaprevir, along with standard treatment, essentially rid themselves of the virus, which can lead to liver damage and even cancer. In comparison, just 44 percent of patients who took the standard therapy alone had the same results.
Telaprevir works by blocking a protease, an enzyme manufactured by the virus, similar to how powerful HIV medications attack that pathogen.
Typical treatments aimed at ridding the body of hepatitis C typically take up to a year, and many patients drop out before that time. However, in the Vertex trial, about 70 percent of the almost 1,100 patients enrolled were able to achieve that goal within six months, the company reported.
"If you can promise them six months with a reasonable chance of a cure, that's a meaningful advance," Dr. Scott L. Friedman, chief of the division of liver diseases at the Mount Sinai School of Medicine in New York City, told the Times.
—–
J&J Will Revamp Plants in Wake of Recall

Following a massive recall of its children's medicines, Johnson & Johnson says it plans to restructure its manufacturing operations in an attempt to improve its tarnished image.
J&J's McNeil Consumer Healthcare unit — in an announcement to employees on its Web site Tuesday — said it has hired an outside consulting firm to improve its manufacturing operations, which led to the recent recall of Tylenol and other medications. The plan will be presented to the U.S. Food and Drug Administration by mid-July, the company said, the Associated Press reported.
"McNeil is taking steps to bring its operation back to a level of quality that Johnson & Johnson demands of its companies, and that the public rightly expects of us," the statement reads.
The latest recall has drawn the ire of lawmakers. The chairman of the Senate's health committee on Monday wrote a letter to the FDA, requesting more information about the recall.
Officials are also looking into procedures at a plant that makes sterilization tools, the AP said.
—–
Fresh Express Recalls Ready-to-Eat Salads

Several types of ready-to-eat salads from Fresh Express, a subsidiary of Chiquita Brands International Inc., are being recalled because the U.S. Food and Drug Administration detected salmonella in a package of salad it tested, the company said.
Fresh Express said the voluntary recall includes Fresh Express salads and lettuce packages that include romaine lettuce, have an "S" in the product code and "use by" dates of May 13 through May 16, the Associated Press reported.
The packages were sold in 26 states: Alaska, Arizona, Arkansas, California, Colorado, Hawaii, Idaho, Iowa, Kansas, Louisiana, Michigan, Minnesota, Missouri, Montana, Nebraska, Nevada, New Mexico, North Dakota, Oklahoma, Oregon, South Dakota, Texas, Utah, Washington, Wisconsin and Wyoming.
Consumers with a salad package that fits the description should get rid of it and call (800)242-5472 for a refund, Fresh Express said.
—–
Calorie Counts at Some Restaurants 'Off the Charts'

Eating out can kill your diet and hurt your heart, with some restaurants packing nearly a day's worth of calories into a single serving, a new report finds.
The Center for Science in the Public Interest (CSPI), a consumer group based in Washington, D.C., on Tuesday dished out its annual "Xtreme Eating Awards," USA Today reported.
Among the recipients:
The Cheesecake Factory's Pasta Carbonara with Chicken, 2,500 calories and 85 grams of saturated fat.
Outback Steakhouse New Zealand Rack of Lamb, with garlic mashed potatoes and fresh vegetables, 1,820 calories, 80 grams of saturated fat and 2,600 milligrams of sodium.
Bob Evans' Cinnamon Cream Stacked and Stuffed Hotcakes, 1,380 calories and 27 grams of saturated fat and 7 grams of trans fat. Four tablespoons of syrup adds 200 more calories.
P.F. Chang's Double Pan-Fried Noodles Combo, 1,820 calories, 7,690 milligrams of sodium.
"You can't even split these and have a decent meal — the numbers are just off the charts," said Bonnie Liebman, CSPI's nutrition director, noting the average American should consume about 2,000 calories a day and no more than 20 grams of saturated fat.
According to the U.S. Department of Agriculture, sodium consumption for most Americans should be kept to 1,500 milligrams a day, USA Today said.
The food industry wasn't impressed by the report, however. Mike Donohue, a spokesman for the National Restaurant Association, told USA Today that the CSPI report "paints a distorted picture of restaurants based on a single menu item."
—–
States Can Do More to Promote Exercise: CDC Report

Getting adequate exercise is an uphill battle in many states because they lack effective policies or environmental supports for physical activity, says a report released Tuesday from the U.S. Centers for Disease Control and Prevention.
"Regular physical activity is essential to overall health," said Dr. CDC Director Dr. Thomas Frieden. "This state indicator report provides a measure for a state's ability to support physical activity and shows where a state has been successful and where more work may be needed."
In Vermont, 73.3 percent of adults reported moderate physical activity of at least 150 minutes a week or 75 minutes of intense aerobic exercise, while in Tennessee, only 51.8 percent of residents met that goal, the report said.
First Lady Michelle Obama, who is leading a fight against childhood obesity, said the report shows a need to promote physical activity for children.
Only 50 percent of young people had access to parks, playgrounds, community centers, and sidewalks that make play convenient, the report found. Just a quarter of youngsters enjoy those supports in Mississippi (24.7 percent) and West Virginia (27.2 percent), while almost three-quarters (71.6 percent) of kids in Washington, D.C., benefit from them.
Just 17 percent of U.S. high school students reported getting an hour of physical activity daily; 20 states require or recommend recess in their elementary schools, and 37 states insist that elementary, middle and high schools teach physical education.
"We need parents and teachers, business and community leaders and the public and private sectors to come together to create more opportunities for our kids to be active so they can lead happy, healthy lives," Obama said.
—–
Dangerous Hospital Bacterium Spreads in Air: Study

Scientists thought that a germ that causes deadly intestinal infections in hospital patients spread only by surface contact, but now researchers report Clostridium difficile can travel through the air.
Inhaling the spores doesn't seem to spread C. difficile, but the British scientists said the germs can land in places where people can touch them, The New York Times reported.
Contact with infected feces is the usual source of C. difficile contamination. Studying 50 infected patients, the University of Leeds researchers found that the more active their diarrhea, the more C. difficile spores there were.
The researchers stressed the need to isolate hospital patients with diarrhea — even before confirmation of C. difficile infection. However, Dr. L. Clifford McDonald, an epidemiologist at the U.S. Centers for Disease Control and Prevention, told the Times that the finding will probably not change current preventive practice since putting patients in a single room "is the norm here in the U.S."
"There is a little bit of dispersion," McDonald added, "but the heavier contamination is still from direct contact."
The best prevention, experts said, is still proper hand hygiene.
​