Health Highlights: March 31, 2010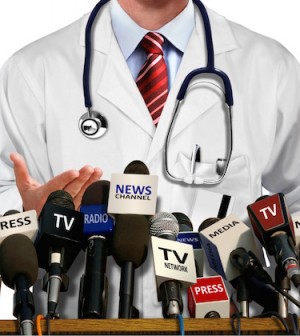 Here are some of the latest health and medical news developments, compiled by the editors of HealthDay:
Barbara Bush Released From Hospital
A mild relapse of a thyroid condition called Graves disease may have caused the symptoms that kept former first lady Barbara Bush in Methodist Hospital in Houston since last weekend.
Doctors adjusted her medication, and she was discharged from the hospital Wednesday morning, the Houston Chronicle reported.
A statement released by Methodist said Bush, 84, was "alert, talkative and appeared to be getting stronger," as she got ready to leave the hospital. She's expected to make a full recovery and should soon resume her normal activities, the hospital said.
She was taken there Saturday by her husband, former President George H.W. Bush. At the time, a spokesman said Mrs. Bush didn't have any pain but wasn't feeling like herself, the Chronicle reported.
—–
FDA Issues New Medical Device Rule
A new rule requires medical device makers to provide information pertaining to the use of their products in patients age 21 or younger, says the U.S. Food and Drug Administration.
The information must be included in certain pre-market applications, even if the device is intended for adult patients, the agency said, United Press International reported.
"Very few devices are developed or assessed specifically for use in pediatric patients — those 21 or younger at the time of treatment or diagnosis," said an FDA news release. "This effort will provide a better understanding of which devices developed for use in adults should be assessed or modified for use in pediatric populations."
In addition, the new rule will help the FDA track the number of approved medical devices labeled for use in young patients and those devices that might benefit certain groups of pediatric patients, UPI reported.
Applications for approval of medical devices might be rejected if they do not contain the required information about pediatric patients, the FDA said.
—–
Insurers to Cover Children's Pre-Existing Conditions
The new health care law requires insurance companies to cover children's pre-existing medical conditions, says U.S. Health and Human Services Secretary Kathleen Sebelius.
She noted that recent media stories suggested some insurers planned to only cover pre-existing conditions if a child already has health insurance when guaranteed coverage for children begins in September, ABC News reported.
"The American people debated and discussed health insurance reform for more than a year… Now is not the time to search for non-existent loopholes that preserve a broken system," Sebelius said in a letter to the president of America's Health Insurance Plans (AHIP). She also said she will issue regulations to ensure that insurance companies cover all children with pre-existing medical conditions.
In response to Sebelius' letter, AHIP President Karen Ignagni said, "We await and will fully comply with regulations consistent with the principles described in your letter," ABC News reported.
—–
Paying for Kidneys Would Increase Donations: Study
Paying living people to donate a kidney would boost the number of organs available for transplant in the United States, according to a new study.
Researchers asked 342 participants if they would donate a kidney to a stranger if they were offered either no money, $10,000, or $100,000. The possibility of receiving money nearly doubled the number of participants who said they would donate a kidney, USA Today reported.
The offer of payment didn't entice a disproportionate number of poor donors, said the researchers from the University of Pennsylvania and the Philadelphia Veterans Affairs Medical Center.
The study, published in the journal Annals of Internal Medicine, triggered concerns among some medical ethics experts.
"The buying and selling of organs will be exploitative because we will end up buying organs from very poor people," Lainie Ross, associate director of the MacLean Center for Clinical Medical Ethics at the University of Chicago, told USA Today.
It's illegal to buy or sell any organ in the United States. Last year, 4,476 people in the United States died while waiting for a kidney transplant, according to the Organ Procurement and Transplantation Network.
​