Health Highlights: March 3, 2010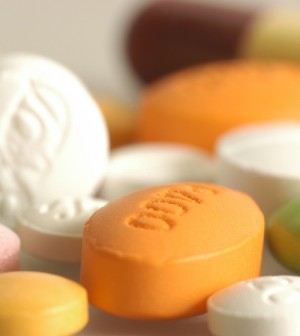 Here are some of the latest health and medical news developments, compiled by the editors of HealthDay:
Alzheimer's Hope Fails in Drug Trial

One of the world's great hopes for treating Alzheimer's disease fell flat Wednesday, when the drug failed a late-stage clinical trial.
The drug, called Dimebon, got its start as a hay fever pill in Russia in the 1980s, and appeared to stave off some of the mental problems tied to Alzheimer's in an earlier study.
But it showed no benefit in treating the mental decline or behavioral issues related to Alzheimer's when compared with a placebo, the drug developers, Pfizer and a California start-up called Medivation, said in a statement, The New York Times reported.
This current study involved 598 patients in Europe and in North and South America who had mild to moderate Alzheimer's disease, the Times said.
The failure appeared to dash the drug makers' hopes for the drug, at least for use of the drug on its own to treat Alzheimer's. However, Medivation and Pfizer will conduct other trials combining Dimebon with other Alzheimer's drugs.
Dimebon is also being tested as a medication for Huntington's disease, the Times reported.
—–
FDA Warns Food Makers of Label Violations

Seventeen U.S. food manufacturers have received notification that the labeling of their food products violates the federal Food, Drug, and Cosmetic Act.
As part of the U.S. Food and Drug Administrations efforts to encourage truth in labeling, the agency cited 22 food products with violations, including unauthorized health claims, unauthorized nutrient content claims and using terms such as healthy that violate established guidelines.
"Today, ready access to reliable information about the calorie and nutrient content of food is even more important, given the prevalence of obesity and diet-related diseases in the United States," said Dr. Margaret Hamburg, commissioner of food and drugs, in a letter to the food industry. She said she hoped the warning letter would clarify the FDA's expectations.
Companies receiving the warnings have 15 business days to explain to the FDA how they plan to correct the labeling violations.
The FDA also has plans to propose guidelines for putting calorie and nutrient labeling on the front of food packages, the statement said.
—–
Moms With Part-Time Jobs Have Healthier Children: Study
Children of women who work part-time tend to be healthier than those with moms who work full-time or don't have jobs, say Australian researchers who looked at the lifestyle and weight of about 2,500 young children.
"The main finding that we have is that the children of mothers who worked part-time were healthier in their weight, and that was related to watching less television, snacking less and being more physically active," Jan Nicholson, of the Murdoch Children's Research Institute in Melbourne, told Agence France Presse. "And that was compared to children whose mothers were in full-time employment and also those whose mothers were at home full time."
Children of mothers with part-time jobs watched about an hour less television per week than other children, the researchers found.
Nicholson said mothers with part-time jobs may be better able to balance work and family demands, AFP reported.
The study appears in the Journal of Social Science and Medicine.
—–
New U.N. Program Seeks to Protect Women From HIV
Even though HIV/AIDS is the top cause of death and disease among women of reproductive age worldwide, HIV services don't respond to the specific needs of girls and women, says the United Nations program on HIV/AIDS.
A new five-year action plan to address gender issues that put women at risk was announced by UNAIDS at the start of a 10-day conference in New York City, BBC News reported.
In sub-Saharan Africa, women account for 60 percent of people living with HIV. In Southern Africa, young women are about three times more likely to be infected with HIV than young men.
UNAIDS says a major issue is that up to 70 percent of women worldwide have been forced to have unprotected sex, BBC News reported.
The new program aims to improve understanding of how women are affected by the HIV/AIDS epidemic, and will seek to ensure that the issue of violence against women is included in HIV prevention programs.
​