Health Highlights: March 25, 2010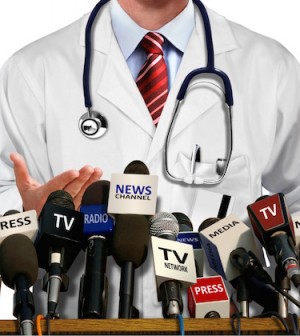 Here are some of the latest health and medical news developments, compiled by the editors of HealthDay:
Swine Flu a Threat to Pregnant Women: Study
H1N1 swine flu poses a serious threat to pregnant women and those who've recently given birth, warn researchers who studied 16 pregnant women and one postpartum woman admitted to intensive-care units in New York City during the 2009 pandemic.
Two women and one infant died, and there was one stillbirth, said a study in the March 26 issue of the Morbidity and Mortality Weekly Report, published by the U.S. Centers for Disease Control and Prevention.
Two case reports highlight how quickly the health of H1N1-infected women can deteriorate. Delays in seeking care, diagnosis, and treatment might increase the potential for rapid clinical decline in some patients, according to the researchers.
They said doctors need to educate pregnant women and those who've just given birth about the risks posed by influenza and the safety and effectiveness of flu vaccines. Also, doctors should immediately begin antiviral treatment in pregnant or postpartum women with possible H1N1 infection, the study authors recommended.
—–
Pregnancy, Childbirth Top Reasons for Women's Hospitalizations
Pregnancy and childbirth are the leading reasons why women are admitted to the hospital, says an analysis that found that women accounted for nearly 60 percent of the 39.4 million admissions to U.S. hospitals in 2007.
About five million of the 23.2 million hospital admissions for women in 2007 were related to delivery, said the federal Agency for Healthcare Research and Quality.
Cardiovascular disease — the leading killer of women in the United States — accounted for nearly two million hospital admissions. Among the other leading reasons why women were hospitalized:
Pneumonia — 608,000 admissions.
Osteoarthritis — 498,000 admissions.
Depression and bipolar disorder — 442,000 admissions.
Urinary tract infection — 383,000 admissions.
Blood infection (septicemia) — 354,000 admissions.
Skin infections — 282,000 admissions.
—–
Retirees Need $250,000 for Medical Expenses: Study
American couples who retire this year will need $250,000, on average, to cover their medical expenses in retirement, according to a study by Boston-based Fidelity Investments.
That amount — up 4.2 percent from last year's figure of $249,000 — is based on projections for a 65-year-old couple retiring with Medicare coverage, no employer-provided insurance in retirement, and a life expectancy of 85 for women and 82 for men, the Associated Press reported.
This year's estimate is 56 percent higher than the $160,000 projection in 2002, when Fidelity first started its annual estimates.
The company said the information highlights the need to factor in health care alongside housing, food and other expenses when people plan for retirement, the AP reported.
—–
Exercise, Healthier Diet Could Prevent Breast Cancers
Getting women to eat less and exercise more could prevent up to one-third of breast cancer cases in Western nations, according to experts.
Mammogram screenings, early diagnosis and improved treatments have made major inroads against breast cancer. The emphasis now needs to shift to lifestyle behaviors, such as diet and exercise, researchers said Thursday at the European Breast Cancer Conference in Barcelona, Spain, the Associated Press reported.
Figures from the International Agency for Research on Cancer suggest that 25 to 30 percent of breast cancer cases could be prevented if women were thinner and exercised more, noted Carlo La Vecchia, head of epidemiology at the University of Milan.
The hormone estrogen, which is produced in fat tissue, is associated with many breast cancers. The fatter a women is, the more estrogen she's likely to produce and the greater her risk of breast cancer, experts believe, the AP reported.
Obesity rates in France and Italy have been stable for the past two decades, which shows that weight can be controlled at a population level, according to La Vecchia.
"It's hard to lose weight, but it's not impossible. The potential benefit of preventing cancer is worth it," he told the AP.
​