Health Highlights: March 19, 2010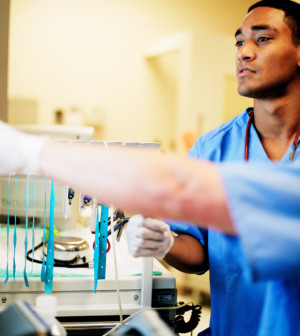 Here are some of the latest health and medical news developments, compiled by the editors of HealthDay:
FDA to Review Menaflex Knee Repair Implant
In a rare move, the U.S. Food and Drug Administration will convene an expert panel next week to review the safety and effectiveness of the Menaflex knee repair implant made by ReGen Biologics of New Jersey.
It's highly unusual for the agency to re-evaluate an approved medical device, the Associated Press reported.
Before Menaflex was approved in 2008, it spent more than three contentious years under review at the FDA. The device was approved despite repeated objections by staff scientists.
Last year, Obama administration-appointed FDA officials re-examined the approval and concluded it was influenced by intense lobbying by New Jersey lawmakers, the AP reported.
—–
Women in Certain Countries Prefer Hunks: Study
Women in nations with higher rates of ill health and disease prefer "he-men" over less masculine-looking guys, according to psychologists at the University of Aberdeen in Scotland.
The researchers used the Internet to recruit more than 4,500 young adult women in 30 countries and asked them to look at a number of photos of the same man. In some photos, the man's face was changed to look either square-jawed and masculine, while in other photos he looked slim-jawed and feminine, Agence France Presse reported.
Women in countries with lower national health index ratings — based on factors such as life expectancy, death rates and prevalence of communicable diseases — were more likely to prefer the more masculine-looking photos.
The results show mating choices may differ according to country and culture, but only because of variations in the local environment, said lead researcher Lisa DeBruine, AFP reported.
The study appears in the journal
Proceedings of the Royal Society B.
—–
March Madness Good Time for Vasectomy: Doctors
The annual March Madness college basketball tournament is a great time to encourage men to have a vasectomy, say many U.S. doctors.
In fact, some urologists even offer March Madness deals that include mugs, pizza and reminders of the number of days off work men will require after having a vasectomy. Those recovery days can be put to good use.
"What better way to spend March Madness than to have a doctor's orders to sit on the couch," David Bone of Springfield, Ore., told ABC News.
On Thursday, Bone had his vasectomy and he plans to spend most of his recovery days watching basketball.
The BayClinic in Green Bay, Wis., is among the practices experiencing a slight increase in vasectomies at this time of year, said Dr. Bruce Neal.
"Usually because of the weather the way it is, a lot of people are going to be watching … [their] NCAA basketball team," Neal told ABC News. "We thought we could catch people in their down time and give them a reason to sit there and watch one basketball game after another."
—–
Radioactive Thyroid Cancer Patients a Threat: Report
Allowing U.S. hospitals to discharge radioactive thyroid cancer patients to their homes and hotels poses a public health threat, according to a Congressional report released Thursday.
The document also said that insurers routinely use the Nuclear Regulatory Commission policy to deny hospital care to thyroid cancer patients treated with radioactive iodine, even when doctors warn those patients may pose a radiation risk to others, said USA Today.
The NRC patient release regulations are less stringent than the global standard, and the agency has repeatedly rejected efforts to get it to adopt stricter rules, said the report released by Rep. Edward Markey, D-Mass., chairman of the House Subcommittee on Energy and the Environment.
"The United States simply cannot play radioactive roulette and gamble with public health and safety," said Markey, USA Today reported.
—–
Arizona Drops Children's Health Insurance Program
Nearly 47,000 low-income children in Arizona will no longer have health coverage after the state became the first in the country to eliminate its Children's Health Insurance Program.
The budget signed Thursday by Republican Gov. Jan Brewer also rolls back Medicaid coverage for childless adults, a policy change expected to eventually remove more than 310,000 people from the rolls, The New York Times reported.
State leaders said they had to make the cuts to deal with a $2.6 billion projected shortfall next year.
However, critics say children could suffer long-term developmental problems because of inadequate medical care, and hospital emergency rooms may be deluged by patients with few other options for health care, The Times reported.
​