Health Highlights: June 30, 2011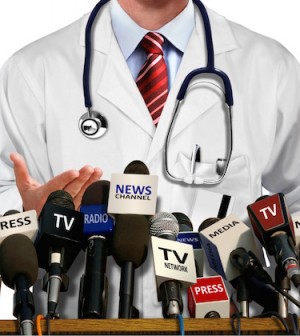 Here are some of the latest health and medical news developments, compiled by the editors of HealthDay:
Canada to Fund Trials of Controversial MS Treatment
The Canadian government announced Wednesday that it will fund clinical trials for a controversial multiple sclerosis treatment that clears blocked neck veins.
A scientific working group established by the government last year recommended proceeding with the trials after a review of seven ongoing studies of the link between "chronic cerebrospinal venous insufficiency" and its connection to MS, Agence France-Presse reported.
The government will issue of call for applications to conduct the trials after the clinical trial terms are established by the Canadian Institute of Health Research.
The so-called "liberation treatment" is not offered in Canada and many Canadians with MS have gone to other countries for the treatment. Some said they had major improvements in their mobility after the procedure, while others reported little benefit, according to AFP.
—–
Number of U.S. Kids Living With Grandparents Rises
The number of children in the United States who live with at least one grandparent rose 64 percent between 1991 to 2009, from 4.7 million to 7.8 million, according to a Census report released Wednesday.
When examined by race and ethnicity, the number of children living with at least one grandparent increased from 5 percent to 9 percent for whites, from 15 percent to 17 percent for blacks, and from 12 percent to 14 percent for Hispanics, USA Today reported.
Three-quarters (76 percent) of all children living with a grandparent also had at least one parent in the household.
"There's absolutely no question it's been on the rise because of the recession," Gary Drevitch of New York, editor-in-chief of the website Grandparents.com, told USA Today.
"What's been interesting is that in the past, you imagine grandparents moving in with their adult children and grandchildren because they could no longer maintain their own home. The trend during the recession has been multigenerational households created because adult children have moved in with the grandparents. It's adult children struggling in the economy," he said.
—–
Seeds From Egypt Suspected Cause of Europe's E. Coli Outbreak
Fenugreek seeds imported from Egypt may have been the cause of the E. coli outbreak in Europe that's sickened more than 4,000 people and killed at least 47, according to officials.
While the fenugreek seeds imported from Egypt either in 2009 or 2010 are being fingered as a possible cause, further investigation is needed to confirm that suspicion, said the European Center for Disease Prevention and Control and the European Food Safety Authority, the Associated Press reported.
Fenugreek seeds are used to prepare pickles and curry powders as well as Ethiopian, Indian and Yemeni foods.
Germany was hardest hit by the E. coli outbreak, with 46 deaths reported there so far. One person had died in Sweden, the AP reported.
—–
Fixes For Health Care Law Glitch Being Considered
The Obama administration is looking for ways to correct a glitch in the new health care law that would give some people who take early retirement a significant break on health insurance premiums.
This is because part or all of their Social Security benefits would not be counted as income in determining their eligibility for federal subsidies to help pay for coverage until they quality for Medicare at age 65, the Associated Press reported.
The glitch means that older adults of the same age and income with similar medical histories would pay much different rates for private health insurance.
"We are monitoring this issue and exploring options that would take into account the needs of Social Security beneficiaries, many of whom are disabled or individuals of limited means," Treasury Department policy official Emily McMahon said in a statement to AP.
—–
Scalia's Pro-Tobacco Decision Overturned by Supreme Court
The U.S. Supreme Court this week overturned a member's decision last fall to let four major tobacco companies delay a $270 million payment to start a smoking cessation program in Louisiana.
The payment was awarded seven years ago in a class-action lawsuit filed by Louisiana smokers in 1996.
In making his solo decision, Supreme Court Justice Antonin Scalia, a smoker, said he believed at least three other justices would want to hear the tobacco companies' appeal of the case and also predicted that the high court would strike down the verdict against the companies, the AP reported.
On Monday, the Supreme Court showed that Scalia's assumptions were wrong.
After the decision, Scalia said through a court spokeswoman that he had no comment on the matter, the AP reported.
—–
​