Health Highlights: June 28, 2011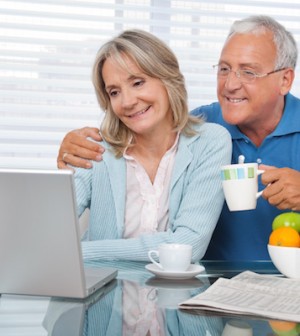 Here are some of the latest health and medical news developments, compiled by the editors of HealthDay:
Giffords Makes First Public Appearance
In her first public appearance since being shot in the head Jan. 8, Arizona Congresswoman Gabrielle Giffords appeared with husband Mark Kelly when he received the Spaceflight Medal Tuesday at Space Center Houston.
The medal is awarded to astronauts who return safely from their missions. Kelly commanded the Space Shuttle Endeavour on its last mission.
A crowd of hundreds gave Giffords, D-Ariz., a standing ovation when she entered the awards ceremony auditorium being pushed in a wheelchair. She smiled and waved to the crowd, ABC News reported.
Giffords held hands with her husband for most of the event and appeared to chat with people around her.
The congresswoman was released from TIRR Memorial Hermann Hospital in Houston on June 15 after what a hospital spokesman said was months of "clear, continuous improvement," ABC News reported.
—–
Secret Shoppers to Assess Primary Care: Report
A team of "mystery shoppers" will be used by the White House to assess how the increasing shortage of primary care doctors in the United States is affecting patients.
The team members will pose as patients, contact doctors' offices and request appointments to assess how difficult it is for people to get care when they require it, The New York Times reported.
But some doctors are upset that the secret shoppers won't identify themselves as working for the government.
"I don't like the idea of the government snooping," Dr. Raymond Scalettar, an internist in Washington, told The Times. "It's a pernicious practice, Big Brother tactics, which should be opposed."
—–
Menthol Cigarettes Health Report Due This Year: FDA
Preliminary findings from a report on the health effects of menthol cigarettes will be released sometime this year after it's reviewed by outside advisors, the U.S. Food and Drug Administration says.
The agency is considering whether to ban sales of menthol and other flavored cigarettes under a 2009 law that gives the FDA regulatory authority over tobacco products, Bloomberg News reported.
In March, an outside panel of experts told the FDA that menthol cigarettes weren't proven to be more harmful, but taking them off the market would benefit public health partly because they attract new smokers.
Menthol tobacco products account for about 30 percent of U.S. cigarette sales, according to data gathered by Bloomberg Government.
—–
National Standards Needed for Blood Transfusions: U.S. Panel
Exessive and inappropriate use of blood transfusions is common in the United States and national standards are needed in order to conserve blood supplies, a federal government advisory committee says.
Blood banks welcomed the proposal from advisers to Health and Human Services Secretary Kathleen Sebelius.
"Better patient care is what's being advocated here," says Dr. Richard Benjamin, chief medical officer of the Red Cross, the Associated Press reported. "If a transfusion is not necessary, all you can do is harm."
Between 1994 and 2008, blood use in the U.S. rose 40 percent, Benjamin told the HHS Advisory Committee on Blood Safety and Availability.
—–
California Teens May be Banned From Tanning Beds
California lawmakers are considering banning anyone younger than 18 from using tanning beds, even if a parent gives permission.
The proposed law has been approved by the Senate and will be reviewed Tuesday by the Assembly policy committee, the Associated Press reported.
Currently, teens younger than 14 in the state are not allowed to use tanning beds and older teens need parental permission. But parent signatures are often forged and tanning salons just look the other way, according to Sen. Ted Lieu, who proposed the stricter rules.
Lawmakers in New Jersey, New York and Pennsylvania are considering banning teens younger than 18 from using tanning beds, and bans for teens younger than 16 or 14 are being considered in two separate bills in Massachusetts, the AP reported.
Exposure to UV radiation from the sun or tanning beds can cause skin cancer, premature aging and eye damage, according to the U.S. Food and Drug Administration. The World Health Organization, American Academy of Dermatology and the American Medical Association all support bans on the use of sunbeds and lamps for teens younger than 18.
—–
New Campaign Offers Food Safety Reminders
Home cooks are being reminded about safe food handling methods in a new U.S. government campaign.
The television, print and social media ads that begin this week will urge people to clean off cooking surfaces and utensils, wash their hands, separate raw meats from other foods, and cook meat to the right temperature, the Associated Press reported.
"This is just a good reminder to make sure that in the rush of trying to get the meal on the table you don't forget one of these rules and put yourself at additional risk," Agriculture Secretary Tom Vilsack said.
Each year, about 48 million Americans (one in six) are sickened by a foodborne illness, according to the Centers for Disease Control and Prevention. Of those 180,000 are hospitalized and 3,000 die, the AP reported.
​