Health Highlights: June 22, 2011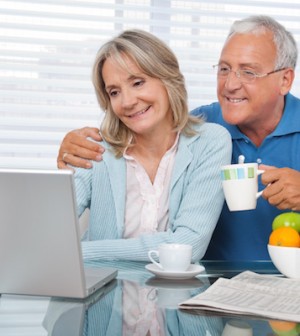 Here are some of the latest health and medical news developments, compiled by the editors of HealthDay:
Glen Campbell Has Alzheimer's Disease
Singer Glen Campbell says he has Alzheimer's disease.
The 75-year-old Grammy winner revealed the news in an interview with People magazine. Campbell has suffered from short-term memory loss for years but was diagnosed with Alzheimer's only six months ago.
Campbell and his wife Kim decided to go public with the diagnosis because he's planned a series of farewell performances this fall and wants his fans to know about his condition.
"Glen is still an awesome guitar player and singer," Kim Campbell told People. "But if he flubs a lyric or gets confused on stage, I wouldn't want people to think, 'What's the matter with him? Is he drunk?' "
"I still love making music," Campbell said. "And I still love performing for my fans. I'd like to thank them for sticking with me through thick and thin."
—–
Many Americans Spend More Than 10% of Income on Health Costs
About 1 in 6 Americans aged 18 to 64 used more than 10 percent of their total family income in 2007 to cover out-of-pocket medical expenses and to pay for health insurance premiums, according to a federal government report.
This included 47 percent of those who pay for their own health coverage, and 16 percent of those with employer-sponsored insurance (16 percent) or public insurance (16 percent), according to the latest News and Numbers from the Agency for Healthcare Research and Quality.
It also included:
29 percent of unemployed adults and 13 percent of working adults.
30 percent of poor people, 19 percent of middle-income earners, and 7 percent of those with high incomes.
21 percent of rural residents and 15 percent of people in metropolitan areas.
35 percent and 32 percent of adults with complex or basic activity limitations, respectively, and 15 percent of adults with no activity limitations.
—–
Infuse Bone Graft Studies Focus of Senate Investigation
Researchers who conducted clinical trials of the bone-growth protein product Infuse Bone Graft failed to report numerous complications associated with the product and the Senate Finance Committee wants to know why.
Over the past decade, the authors of the dozen research papers collectively received tens of millions of dollars in consulting fees or royalty payments from Medtronic Inc., which markets Infuse Bone Graft, the Wall Street Journal reported.
Infuse Bone Graft, which is widely used in spinal surgery, was approved by the U.S. Food and Drug Administration in 2002. But the FDA issued a safety alert in 2008 about the use of the product in the neck after it received dozens of reports of serious side effects.
A new study to be published in a medical journal outlines the many complications associated with Infuse Bone Graft. The study helped trigger the Senate inquiry, the newspaper reported.
In an emailed statement to the Wall Street Journal, Medtronic said it informs the FDA about all adverse events that occur in clinical trials of its products "irrespective of any financial relationship between the company and the clinical investigator or study author."
—–
Under Health Law, Some in Middle Class May Qualify for Medicaid
Millions of middle-class Americans who retire early could get Medicaid under the new health care law, according to federal officials.
Under the law, up to 3 million more people could qualify for Medicaid in 2014 because most of their Social Security benefits would no longer be counted as income for determining eligibility for the health insurance program meant for the poor, the Associated Press reported.
For example, a married couple with a total annual income of about $64,000 could get Medicaid.
"I don't generally comment on the pros and cons of policy, but that just doesn't make sense," Medicare chief actuary Richard Foster said at a recent professional society meeting, the AP reported.
The situation is due to the effort to simplify rules for determining who is eligible for Medicaid, say White House officials and senior Democratic lawmakers.
"This simplification will stop people from falling into coverage gaps and may cause some to be newly eligible for Medicaid and others to no longer qualify," Brian Cook, spokesman for the Centers for Medicare and Medicaid Services, told the AP.
—–
Birth Defects More Common in Mountaintop Mining Counties: Study
Children born in mountaintop coal-mining counties in Appalachia are 26 percent more likely to have birth defect than those born in non-mining regions, a new study finds.
Previous research has linked mountaintop coal mining — where the tops of elevations are blasted off in order to expose coal seams — to air and water pollution, USA Today reported.
For this new study, researchers examined 1.8 million births in West Virginia, Kentucky, Tennessee and Virginia between 1996 and 2003. Rates of birth defects were 235 per 10,000 live births in mountaintop mining areas vs. 144 per 10,000 live births in non-mining areas.
After adjusting for other factors such as poverty, smoking, drinking, race and mother's education, the researchers concluded that the risk of birth defects was 26 percent higher in mountaintop mining communities, USA Today reported.
The study appears in the journal Environmental Research.
—–
Models' Altered Photos in Ads Harm Kids: AMA
The use of software-altered photographs of models in advertisements can give children and teens unrealistic expectations of body image and guidelines are needed to control the practice, a new American Medical Association policy says.
The guidelines should be developed by advertising groups working with public and private sector organizations involved in child and teen health, the AMA says.
"The appearance of advertisements with extremely altered models can create unrealistic expectations of appropriate body image. In one image, a model's waist was slimmed so severely, her head appeared to be wider than her waist," AMA Board Member Dr. Barbara L. McAneny said in an AMA news release. "We must stop exposing impressionable children and teenagers to advertisements portraying models with body types only attainable with the help of photo editing software."
The policy was passed Tuesday at the AMA's annual meeting.
—–
Fake Fat Makes Rats Gain Weight: Study
You'll gain weight, not lose it, if you eat products that contain the calorie- and fat-free fat substitute Olean, according to a new study.
Rats that were fed Olean-containing potato chips as part of a high-fat diet ate more overall and gained more weight than rats that ate regular potato chips as part of a high-fat diet, Purdue University researchers found, ABC News reported.
The study was published this week in the journal Behavioral Neuroscience.
"Fat substitutes can interfere with the body's ability to regulate what it eats, and that can result in overeating," explained lead author and psychology professor Susan Swithers, ABC News reported.
In addition, weight gain may occur due to fake fats' disruption of the body's ability to digest and metabolize food, researchers say.
​