Health Highlights: June 14, 2010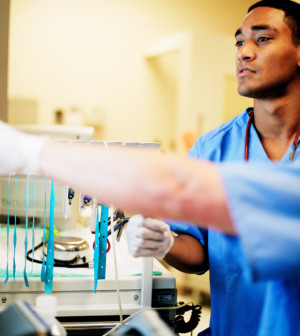 Here are some of the latest health and medical news developments, compiled by the editors of HealthDay:
Large Rise In Employer Medical Costs Next Year: Report
Medical costs for companies that offer employee health insurance are expected to rise nine percent next year, says a new report from consulting firm PricewaterhouseCoopers.
It also said that more than 50 percent of companies will ask workers to have health insurance deductibles of $400 or more in 2011, compared with 25 percent of companies two years ago and 43 percent in 2010, the Associated Press reported.
The new health reform law will have little impact on employer medical costs next year, according to Michael Thompson, a principal with PricewaterhouseCoopers.
"In general, (the rise is) a continuation of a fairly high rate of medical inflation," he told the AP.
—–
Assisted Reproduction May Boost Birth Defects: Study
Babies conceived through assisted reproductive technology (ART) are at increased risk for major birth defects, finds a new study.
Researchers analyzed all ART births (15,000) in 33 registered clinics in France between 2003 and 2007 and found the rate of major birth defects was 4.24 percent, compared with two to three percent in the general population, Agence France Presse reported.
"This higher rate was due in part to an excess of heart disease and malformations of the uro-genital system. This was much more common in boys," lead researcher Geraldine Viot, a clinical geneticist at the Port Royal maternity hospital in Paris, said in a news release.
"We estimate that in France some 200,000 children have been born through ART. A malformation rate of this magnitude is a public health issue," Viot said, AFP reported. "It is important that all doctors — and also politicians — are informed about this."
It's not clear whether the increased risk is due to ART itself or genetic problems passed along to the children by their parents, the researchers said.
"The origins of the malformation are probably multiple," Viot said. "We need … to put much more effort into trying to understand which of the procedures involved is implicated in the problem."
—–
Genetic Tests Must Be Approved By FDA
Five companies that make genetic tests have been sent regulatory letters notifying them that their tests are considered medical devices and must be approved as safe and effective by the U.S. Food and Drug Administration.
The agency says that none of the companies — 23andMe Inc., deCODE Genetics, Illumina, Navigenics and Knome Inc. — have submitted their genetic tests for approval, the Associated Press reported.
The companies were told to contact the FDA to make arrangements to submit their tests for review.
The letters may be the first sign of increased FDA oversight of companies that claim to use DNA samples to identify potential inherited health problems, the AP reported.
—–
​