Health Highlights: July 18, 2011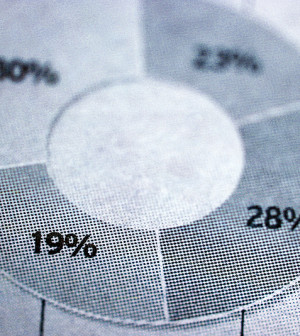 Here are some of the latest health and medical news developments, compiled by the editors of HealthDay:
Thinner Wife, Heavier Hubby Makes for Better Marriage: Study
Marriages tend to work better when a man is heftier than his wife, according to a new study of 169 newlyweds.
The study, published in the July issue of Social Psychological and Personality Science, tracked the couples over four years. Researchers found that when husbands had a higher body mass index than wives, husbands were more satisfied soon after vows were exchanged and wives were more satisfied over the long term, than if the situation was reversed.
"There's a lot of pressure on women in our society to achieve an often unreachably small weight," study lead author Andrea Meltzer, a doctoral candidate at the University of Tennessee, told ABC News. "The great take-home message from our study is that women of any size can be happy in their relationships with the right partner. It's relative weight that matters, not absolute weight. It's not that they have to be small."
The finding remained strong even after the researchers accounted for stressors in a marriage, such as finances and depression.
Meltzer said it's not clear how relative differences in weight affect marriage happiness, but "one idea is that attractiveness and weight are more important to men."
But she stressed that weight is just one factor in marital bliss, and maintaining the relative weights noted in the study is "not a guarantee to be happy in a relationship."
—–
FDA Panel Mulling New Type of Diabetes Drug
A panel convened by the U.S. Food and Drug Administration will weigh this week the merits of the first of a new type of diabetes drug — but it's far from certain that the drug, dapagliflozin, will reach the market.
According to The New York Times, the medicine helps diabetics reduce their blood sugar by excreting excess glucose via urine. But the FDA panelists are also poring over data suggesting that dapagliflozin raises users' risks for genital and urinary tract infections, liver damage and breast and bladder cancer, the Times said.
The once-a-day pill — from an emerging class of medicines called SGLT2 inhibitors — is being developed by Bristol-Myers Squibb and AstraZeneca, but other companies have similar diabetes medications in the pipeline. In clinical trials, dapagliflozin appeared to be equally effective as other medications targeted to cut blood sugar levels. The FDA noted, however, that the drug is not effective in people with moderate to severe kidney dysfunction.
One advantage of SGLT2 inhibitors is that they work independently of insulin, so doctors might be more free to combine them with other medications. And the Times said that the elimination of glucose via urine might help users lose excess weight. In clinical trials, people taking dapagliflozin dropped an average of 5 pounds more than people who took a placebo after six months, and they also achieved a slight decrease in blood pressure.
Still, drawbacks were also observed. According to the Times, an increase of sugar in urine boosts the odds for urinary tract and genital infections, and there were slight hikes in cases of breast and bladder cancer in those patients on dapagliflozin.
—–
Innovative Heart Valve for Elderly Shows Promise: Report
An experimental heart valve — the first artificial valve designed to be implanted without open heart surgery, seems to benefit elderly patients too frail to undergo an invasive operation, U.S regulators say.
The Food and Drug Administration is reviewing a heart valve made by Edwards Lifesciences that can be inserted into a patient through one of the body's major arteries, the Associated Press reported.
The FDA said more patients in a company-funded study who got an Edwards' valve were alive after one year than those who didn't get one. But, there were higher rates of stroke and bleeding in the brain among valve recipients, the AP said.
—–
Scientists Identify Gene for Stubborn Breast Cancers
Scientists have identified a gene linked to about 70 percent of breast cancer cases that are resistant to hormone treatments.
Since hormones can trigger the growth of tumors, treatments that inhibit those hormones can be key to treating certain breast cancers, researchers at the Massachusetts-based Whitehead Institute for Biomedical Research wrote in the journal Nature. Examples include tamoxifen and a class of drugs called aromatase inhibitors, BBC News said.
The newly identified gene — dubbed PHGDH — was much more active in most tumors that do not respond to hormone therapies, the scientists wrote.
The researchers said identification of the gene could one day lead to a drug that inhibits the gene's harmful activity, BBC News reported.
​