Health Highlights: Jan. 30, 2013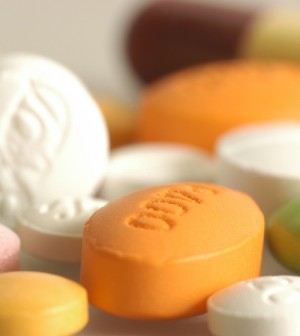 Here are some of the latest health and medical news developments, compiled by the editors of HealthDay:
EPA Seeks To Ban 12 D-Con Mouse and Rat Poison Products
In a move designed to prevent thousands of children from being accidentally exposed to rodent poison each year, the U.S. Environmental Protection Agency said Wednesday that it is moving to ban the sale of 12 d-Con brand mouse and rat poison products produced by Reckitt Benckiser Inc.
The products do not comply with current EPA safety standards, the agency said.
Each year, about 10,000 U.S. children are accidentally exposed to mouse and rat baits, and the EPA has been working with companies to ensure that products are both effective and safe to use around children.
Reckitt Benckiser is the only company that has refused to adopt federal safety standards for all of its consumer mouse and rat poison products, the EPA said.
"Moving forward to ban these products will prevent completely avoidable risks to children," James Jones, acting assistant administrator for EPA's Office of Chemical Safety and Pollution Prevention, said in an agency news release.
—–
Soldier Says Double-Arm Transplant Gives 'Hope for the Future'
A 26-year-old American soldier who recently underwent a double-arm transplant said at a new conference Tuesday that he looks forward to driving and swimming with his new arms.
Brendan Marrocco lost all four limbs in a roadside bomb attack in Iraq in 2009. He had the double-arm transplant last month at Johns Hopkins Hospital in Baltimore and said he is happy and amazed to have new arms, CBS News/Associated Press reported.
"It's given me a lot of hope for the future," Marrocco said at the news conference. "I feel like it's given me a second chance." He has prosthetic legs but said that without arms, he felt "kind of lost for a while."
Marrocco was joined at the news conference by the surgeons who performed the operation. Lead surgeon Dr. W.P. Andrew Lee said the procedure "was the most extensive and complicated" transplant surgery ever performed, CBS/AP reported.
Lee said the transplant involved connecting bone, nerves, blood vessels, muscles, and other tissue, and noted that he and his team rehearsed the procedure four times on cadavers in the last two years.
The operation was only the seventh double-hand or double-arm transplant done in the United States, CBS/AP reported.
Marrocco, who can already twist the wrist in his left arm, checked out of the hospital Tuesday and will begin several months of outpatient therapy. Nerves regrow at about an inch per month, so it will take between several months to over a year for Marrocco to regain most of his normal arm movements, Lee said.
—–
FDA OKs Drug to Treat Rare Cholesterol Disorder
A new drug that treats a rare inherited disorder that causes extremely high cholesterol levels and heart attacks by age 30 was approved Tuesday by the U.S. Food and Drug Administration.
The disease is called homozygous familial hypercholesterolemia (HoFH) and affects only a few hundred people in the U.S. Left untreated, people with HoFH can develop levels of "bad" LDL cholesterol that are about 10 times higher than what is considered desirable, The New York Times reported.
The drug Kynamro (mipomersen) works by inhibiting the action of a gene — apolipoprotein B — involved in the formation of particles that carry cholesterol in the blood. Kynamro is injected once a week.
A clinical trial of the drug found that it lowered LDL cholesterol levels by an average of nearly 25 percent. The FDA said the label for Kynamro will carry a boxed warning about potential liver damage. Other side effects include flu-like symptoms and injection-site reactions, The Times reported.
Kynamro was invented by Isis Pharmaceuticals and will be marketed by Sanofi's Genzyme division. Last month, the FDA approved Aegerion Pharmaceuticals' once-a-day pill called Juxtapid for treatment of patients with HoFH.
—–
Barbara Walters Released From Hospital
Barbara Walters is now recovering at home after spending more than a week in hospital after suffering a fall.
The 83-year-old newswoman and talk-show host fell and struck her head at a party on the weekend before President Obama's second inauguration. She was hospitalized in Washington and then moved to a New York hospital late last week, USA Today reported.
On Tuesday, ABC announced that Walters had been released from hospital and returned home. Walters is a host on the network's The View talk show.
On Monday, The View co-host Whoopi Goldberg said that Walters was recovering from chickenpox as well as the cut on her forehead from her fall, USA Today reported.
"You all know that she fell and cut her head 10 days ago, and then was running a temperature, but it turns out it is all the result of a delayed childhood. Barbara has the chickenpox. She'd never had it as a child. So now she's been told to rest, she's not allowed any visitors. And we're telling you, Barbara, no scratching," Goldberg said on the show.
—–
Two More Surgeries for Pakistani Teen Activist
British doctors say Pakistani teen activist Malala Yousafzai requires just two more surgeries before her long ordeal of operations is over.
In the coming days, the 15-year-old girl will receive a titanium plate to cover an opening in her skull and an inner ear implant, CNN reported.
Malala was shot in the head and neck in October as she rode home on a school bus in Pakistan's Swat Valley. Islamist extremists targeted her for speaking out on the right of girls to get an education.
Surgeons in Pakistan removed a section of her skull about the size of a hand in order to reduce pressure caused by brain swelling, CNN reported. She was later transferred to England for further treatment.
—–
First Benefits Awarded From 9/11 Health Fund
On Tuesday, 15 emergency responders became the first people to be awarded money from a $2.8 billion federal fund established to compensate people sickened by the 9/11 terrorist attack on the World Trade Center.
The names of the 14 firefighters and one correction officer were not released. They responded to the disaster early on, mainly on the first day, said Sheila Birnbaum, the special master of the victim compensation fund, The New York Times reported.
She said most of the 15 recipients had respiratory illness and none of them had cancer. Their tax-free awards ranged from $10,000 to $1.5 million. However, they are receiving only 10 percent of their awards at first due to uncertainty about how many people will apply for the benefits and whether the fund will have enough money to pay all the claims.
The benefits are available to first responders, volunteers, workers and residents who were in Lower Manhattan in the months after the attack. Thousands of people are eligible for the fund, which expires in October 2016, The Times reported.
—–
FDA Issues Warning on Unapproved Flu Product
A Florida company has been sent a warning letter about marketing an untested inhaled formula as a flu remedy, federal officials say.
Flu and Cold Defense LLC is making misleading and unproven claims about its GermBullet inhaler, according to the letter issued by the Food and Drug Administration and the Federal Trade Commission, the Associated Press reported.
The company's website states that "an FDA recognized virology lab" tested the product and "confirmed that it has the potential capability to kill cold and flu viruses." Ads describe the product as "proprietary blend of 11 organic botanicals."
The FDA said the GermBullet inhaler has never been reviewed as safe and effective and that the company is violating drug safety regulations. The letter, dated Jan. 24, was posted on the FDA's website Tuesday. The company was given 15 business days to correct its claims, the AP reported.
The GermBullet is sold online through retailers such as CVS.com and at a few small pharmacies and natural food stores in Florida.
​