Health Highlights: Jan. 29, 2010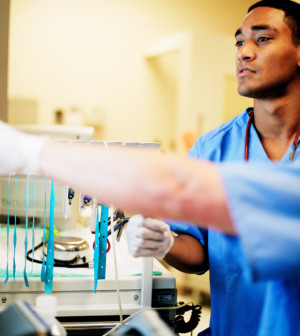 Here are some of the latest health and medical news developments, compiled by the editors of HealthDay:
C-Section Doesn't Affect Breast-Feeding: Study
Contrary to a widely held belief, having a "non-natural" instrumental or Caesarean section birth doesn't affect how long a mother breast-feeds, says a British study that included 2,000 new moms.
But the researchers did find that a mother's ethnicity and the number of previous births did have an impact. White mothers were 70 percent more likely to stop breast-feeding than non-white women, BBC News reported.
The study also found that babies who began breast-feeding within an hour of being born weren't breast-fed longer than those who started breast-feeding within 48 hours of birth.
All the mothers in the study received breast-feeding help from the same peer support group. On average, the moms breast-fed for 21 weeks, and half of them breast-fed for more than 27 weeks, much longer than the national average, BBC News reported.
The study was published in the journal BMC Pediatrics.
—–
Antibiotics Combo More Effective Than Single Drug
Having patients take the two antibiotics lankacidin and lankamycin at the same time is a more effective way to combat pathogenic bacteria than using either antibiotic on its own, says a new study.
Individually, each drug is marginally effective at fighting pathogens, said the American and Israeli researchers. However, when used together, the two antibiotics are much more likely to be effective against dangerous pathogens such as methicillin-resistant Staphylococcus aureas (MRSA), United Press International reported.
"What we found most amazing is that the two antibiotics appeared to help each other in stopping pathogens from making new proteins and in inhibiting bacterial growth," lead investigator Alexander Mankin, professor and associate director of the Center for Pharmaceutical Biotechnology at the University of Illinois in Chicago, said in a news release.
The study appears online in the journal Proceedings of the National Academy of Sciences.
—–
New Disinfectant Kills Wide Range Of Pathogens
A new rapid-acting disinfectant may help reduce deadly infections in hospitals, say German scientists.
The disinfectant is a simple alkaline detergent formulation mixed with 20 percent propanol, United Press International reported.
In tests on surgical instruments, the disinfectant killed bacteria, viruses, fungi and prions that cause mad cow disease in cattle and Creutzfeldt-Jakob disease in humans.
"Standard formulations that eliminate prions are very corrosive," study leader Dr. Michael Beekes of the Robert Koch Institute in Berlin, said in a news release, UPI reported. "The solution we've come up with is not only safer and more material-friendly but easy to prepare, cheap and highly effective."
The study is published in the February issue of the Journal of General Virology.
—–
Children's Pendants Recalled Because of Cadmium
High levels of the toxic heavy metal cadmium have prompted a recall of "The Princess and The Frog" movie-themed children's pendants, the U.S. Consumer Product Safety Commission announced Friday.
Cadmium is known to cause cancer and recent research suggests it can harm brain development in children.
The voluntary recall by FAF Inc. of Greenville, R.I., includes 55,000 pendants sold exclusively at Wal-Mart stores. It's the first time a consumer product has been recalled in the United States because of cadmium, the Associated Press reported.
Several weeks ago, the AP published results of an investigation that found high levels of cadmium in "The Princess and The Frog" pendants and other Chinese-made children's metal jewelry.
—–
Gates Foundation Offers $10 Billion for Vaccine Research
Over the next 10 years, the Bill & Melinda Gates Foundation will donate $10 billion for research on new vaccines and to make them available to the world's poorest nations.
In a statement issued on the sidelines of the World Economic Forum in Davos, Switzerland, Microsoft co-founder Bill Gates said "we must make this the decade of vaccines," the Associated Press reported.
He also said that "innovation will make it possible to save more children than ever before."
—–
Cell Phone Bans May Not Reduce Crashes
Bans on the use of cell phones and other hand-held devices while driving haven't reduced road crashes in California, Connecticut, New York or Washington, D.C., according to a new study by the Highway Loss Data Institute.
Researchers compared insurance claims in those areas and in regions that don't have cell phone bans, CNN reported. The study found no changes in collision rates before and after cell phone restrictions took effect.
"The laws aren't reducing crashes, even though we know that such laws have reduced hand-held phone use, and several studies have established that phoning while driving increases crash risk," said institute president Adrian Lund.
"So the new findings don't match what we already know about the risk of phoning and texting while driving," he added, CNN reported.
—–
Newer Emergency Contraceptive Beats Plan B in Study
A newer type of morning-after pill called ulipristal acetate (brand name ellaOne) is more effective than levonorgestrel (brand name Plan B), the most widely used emergency contraceptive, says a new study that included 1,700 women, ages 16 to 36.
The women received either Plan B or ellaOne within three to five days of having unprotected sex. There were 22 pregnancies in the Plan B group and 15 pregnancies in the ellaOne group, the Associated Press reported.
The researchers also found that the risk of pregnancy among women who took ellaOne within five days after sex was nearly half that of those who took Plan B — 1.8 percent vs. 2.6 percent. Plan B is effective only if taken within three days after sex, while ellaOne is effective for up to five days after sex.
The study — funded by ellaOne's maker, HRA Pharma — was published Friday in The Lancet.
Plan B is approved in more than 140 countries and is available without a prescription in nearly 50 of those countries. EllaOne is approved only in Europe and requires a prescription, the AP reported.
​