Health Highlights: Jan. 18, 2013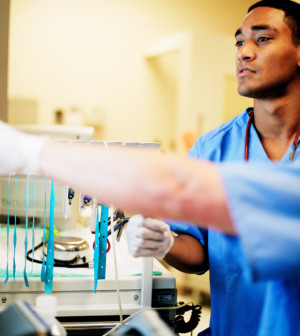 Here are some of the latest health and medical news developments, compiled by the editors of HealthDay:
U.S. Lawmakers Seek Information From Energy Drink Companies
Companies that sell caffeinated energy drinks are being asked to provide information about their products' ingredients and any studies they've conducted into the products' risks and benefits to children and young people.
The request was made in letters sent by three Democratic lawmakers to 14 marketers of the beverages, The New York Times reported. The letters were sent by Senator Richard Durbin of Illinois, Senator Richard Blumenthal of Connecticut and Representative Edward Markey of Massachusetts.
Recipients of the letters included Monster Beverage, Rockstar, Red Bull, and the makers of 5-Hour Energy (Living Essentials), Amp (PepsiCo), NOS (Coca-Cola), and Venom Energy (Dr. Pepper Snapple).
Among other things, the lawmakers asked the companies to specify the total amount of caffeine in their energy drinks.
Recently, the U.S. Food and Drug started investigating the safety of energy drinks after reports of deaths and injuries potentially associated with the beverages. A federal report released last week said that the number of annual emergency department visits involved the drinks doubled from 2007 to 2011, The Times reported.
—–
Armstrong Admits to Doping, But Details Lacking
After years of denying allegations that he doped, disgraced American cyclist Lance Armstrong confessed to Oprah Winfrey that he did use performance enhancing drugs.
In his admission made during an interview broadcast Thursday, Armstrong said he used a cocktail of drugs — including testosterone, cortisone, human growth hormone and the blood booster EPO — for most of his cycling career, The New York Times reported.
He said his doping program was simple and conservative, even though the United States Anti-Doping Agency said its evidence shows that the doping scheme on Armstrong's Tour de France-winning teams was "the most sophisticated, organized and professionalized" in the history of cycling.
Armstrong, 41, also denied the anti-doping agency's charge that he was the kingpin of the doping programs on his cycling teams, and he did not provide any details about his doping.
The fallen cycling hero showed little contrition when asked about the people he called liars and tried to discredit when they went public with allegations about his doping, The Times reported.
These include former team masseuse Emma O'Reilly and former teammate Frankie Andreu and his wife Betsy. Armstrong had called O'Reilly a prostitute and an alcoholic and had said that Betsy Andreu was crazy.
At one point, Armstrong said he had been a bully his entire life, but contradicted himself a minute later by saying that he became a bully after he survived cancer and resumed his cycling career, The Times reported.
He also initially claimed that he never failed a drug test. But after being pressed by Winfrey, Armstrong admitted that he received a backdated prescription from a team doctor after he tested positive for cortisone at the 1999 Tour de France.
Armstrong did not do what many hoped for: he did not apologize directly to all the fans, cancer survivors and other people he deceived. He never looked into the camera and said, without qualification, "I'm sorry," The Times reported.
People close to Armstrong say the interview was his first step in trying to get the U.S. Anti-Doping Agency to reduce his lifetime ban from Olympic sports. Armstrong had been trying to establish himself in triathlon after retiring from competitive cycling.
While Armstrong's admission in the interview is "a step in the right direction," he needs to provide details about his doping activities to officials, said Travis Tygart, the chief executive anti-doping Agency.
"Anything he says on TV would have no impact whatsoever under the rules on his lifetime suspension," Tygart told The Times.
—–
​