Health Highlights: Jan. 14, 2013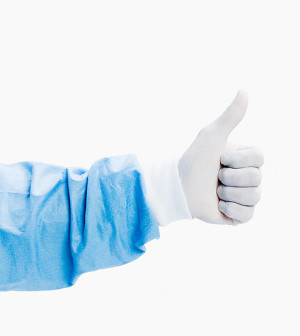 Here are some of the latest health and medical news developments, compiled by the editors of HealthDay:
George H.W. Bush Released From Hospital
After spending nearly two months in the hospital for treatment of a bronchitis-related cough and other health problems, former U.S. President George H.W. Bush was sent home Monday.
Bush, 88, was admitted to Methodist Hospital in Houston on Nov. 23. His stay there included a week in intensive care last month, the Associated Press reported.
"Mr. Bush has improved to the point that he will not need any special medication when he goes home, but he will continue physical therapy," Dr. Amy Mynderse, the internal medicine physician in charge of the former president's care, said in a statement released by Bush's spokesman Jim McGrath.
"I am deeply grateful for the wonderful doctors and nurses at Methodist who took such good care of me," Bush said in the statement, the AP reported.
—–
Test Home for Radon Gas: EPA
Americans can reduce their risk of lung cancer by testing their homes for radon gas, the Environmental Protection Agency says.
"Testing for radon is one of the easiest and smartest things people can do to protect their homes and families from this serious health risk," Gina McCarthy, assistant administrator for EPA's Office of Air and Radiation, said Monday in an agency news release. "Addressing high radon levels greatly reduces exposure to the second leading cause of lung cancer."
Each year, 21,000 Americans die from radon-related lung cancer.
Radon gas occurs naturally from the decay of uranium in the soil and can accumulate to dangerous levels inside homes, schools, workplaces and other buildings. Exposure to elevated levels of the colorless, odorless gas is the leading cause of lung cancer among non-smokers.
As part of National Radon Action Month, the EPA says that all buildings with or without basements should be tested for radon. Affordable do-it-yourself radon test kits are available online and at home improvement and hardware stores. People can also hire qualified radon testers.
Action should be taken if radon levels are at or above 4 picoCurries per liter. Have the work done by a qualified radon-reduction contraction, the EPA says.
—–
Obesity Issue Addressed in New Coca-Cola Ad
Coca-Cola will begin airing a two-minute television ad on Monday addressing the issue of obesity.
The ad by the world's leading beverage maker will appear during the highest rated shows on CNN, MSNBC and Fox News. It will note that weight gain is the result of consuming too many calories from all types of food and drink, not just soda, the Associated Press reported.
It will also highlight Coca-Cola's record of providing drinks with fewer calories.
The Atlanta-based company said the ad campaign is the first in a number of obesity-related initiatives over the next year, such as providing more diet choices at soda fountains, the AP reported.
Mike Jacobson, executive director of the Center for Science in the Public Interest, questioned the motive behind Coca-Cola's ads, and said that if the company was serious about fighting obesity, it would stop fighting soda taxes, the AP reported.
"It looks like a page out of damage control 101," he said. "They're trying to disarm the public."
—–
Lance Armstrong Will Admit Doping in Oprah Interview
Disgraced American cyclist Lance Armstrong will admit to doping in an interview with Oprah Winfrey that is scheduled to be taped Monday and shown Thursday on the Oprah Winfrey Network.
While he'll confess to doping, Armstrong will probably not go into detail about specific cases and events, a person with knowledge of the situation told USA Today.
For many years, Armstrong strongly denied allegations of doping. He often attacked accusers as liars and went to court to fight charges that he used performance-enhancing drugs and blood transfusions throughout his cycling career.
Late last year, the U.S. Anti-Doping Agency released a report with a huge amount of evidence against Armstrong. He's since been stripped of his Tour de France titles, lost lucrative advertising contracts, and stepped down from Livestrong, the cancer charity he founded, USA Today reported.
—–
President Obama Has Fitness Evaluation
President Barack Obama underwent a "routine fitness evaluation" Saturday at the Fit to Win Clinic at the Pentagon, according to the White House.
"The fitness evaluation is part of the periodic medical exam that is coordinated by the physician to the president," a White House official explained, CNN reported. "The results of the president's periodic medical exam will be released before the end of the month."
Obama's prior physical exam in October 2011 found the former smoker to be tobacco-free and eating a healthy diet.
"The president is in excellent health and 'fit for duty,'" Dr. Jeffrey Kulhman wrote at the time, CNN reported. "All clinical data indicate he will remain so for the duration of his presidency."
—–
Male Jurors More Likely to Convict Obese Women: Study
A new study finds that male jurors are more likely to deliver a guilty verdict against obese women than for lean women, but don't have the same bias against obese men.
Yale University researchers asked 471 study participants to look at photos of four people — an obese woman, a lean woman, an obese man, and a lean man — and to rate their likelihood of being guilty of an imaginary check fraud crime, ABC News reported.
Men were much more likely to say they believed the obese woman was guilty than the lean woman. Women did not display this type of discrimination.
The findings were "disappointing but not entirely surprising," said lead researcher Natasha Schvey, ABC News reported. Men tend to judge women more harshly than men, and women tend to be more sympathetic, she suggested.
"I think it's one more nail in the coffin of how painful it is for people that are of larger sizes," Lynn Grefe, president and CEO of the National Eating Disorders Association, told ABC News. "These people could be healthy. We're judging people. We're making stereotypes. We did this with race years ago. We did it with religion."
​