Health Highlights: Feb. 17, 2011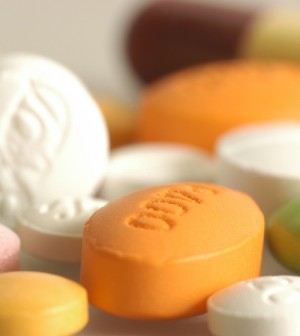 Here are some of the latest health and medical news developments, compiled by the editors of HealthDay:

Congresswoman Giffords Continues to Improve
Rep. Gabrielle Giffords continues her steady progress as she recovers from a gunshot to the head suffered during a Jan. 8 assassination attempt in Phoenix, a family friend says.
Tilman Fertitta told the Associated Press that Giffords laughs at jokes and recognizes visitors.
"There's lots of excitement as she continues to speak more and improve," he said. "She's in a great mood and working hard."
Giffords is undergoing intensive rehabilitation at TIRR Memorial Hermann Hospital in Houston. She is in therapy from morning till night and sees her husband Mark Kelly every day, Fertitta told the AP.
Kelly is an astronaut who is training for the next space shuttle launch in April. Doctors say it's too early to say whether Giffords will be able to attend the launch.
—–
FDA Warns Pregnant Women About Asthma Drug
Certain uses of the asthma drug terbutaline to treat preterm labor in pregnant women can lead to heart problems and death, the U.S. Food and Drug Administration warned Thursday.
"Women should be aware that serious and sometimes fatal side effects have been reported after prolonged use of terbutaline in pregnant women," Dr. Scott Munroe, director of the FDA's Division of Reproductive and Urologic Products, said in an agency news release.
The drug is approved to prevent and treat narrowing of the airways caused by asthma, bronchitis and emphysema, but is also used for unapproved (off-label) obstetric purposes, including treating preterm labor.
The FDA said the drug's labeling will now have to carry a warning that "terbutaline administered by injection or through an infusion pump should not be used in pregnant women for prevention or prolonged (longer than 48 to 72 hours) treatment of preterm labor. In addition, oral terbutaline should not be used for prevention or treatment of preterm labor."
—–
Elephant Sanctuary Workers Caught TB From Pachyderm: CDC
An elephant named Liz was the cause of a tuberculosis outbreak that affected eight workers at a Tennessee elephant sanctuary in 2009, according to the U.S. Centers for Disease Control and Prevention.
Agency investigators said Liz had been diagnosed with the disease and TB bacteria could have spread through the air when the elephant sneezed, or through pressure washing or dust from cleaning the barn where Liz was kept, the Associated Press reported.
The eight workers received treatment but are not sick or hazardous to other people, according to officials at the sanctuary, located about 85 miles southwest of Nashville.
Liz received treatment and is still alive, the AP reported.
—–
Caramel Coloring in Colas Poses Cancer Risk: Consumer Group
Caramel coloring used in colas and some other drinks and foods may cause cancer and should be banned, says the Center for Science in the Public Interest.
"We're asking the FDA to ban the use of caramel coloring that's used in colas and certain other soft drinks and a variety of other foods," said Michael Jacobson, the consumer group's executive director, ABC News reported.
Several years ago, a U.S. government agency tested a contaminant in the coloring and found that it caused cancer in mice and possibly rats, he said.
The soft drink industry strongly objected to the claim, ABC News reported.
"CSPI's statement irresponsibly insinuates that the caramel used in our beverages is unsafe and maliciously raises cancer concerns among consumers," the Coca-Cola Company said in a statement. "This does a disservice to the very public for which CSPI purports to serve. In fact studies show that the caramel we use does not cause cancer."
—–
FDA Expands Eligibility for Weight Loss Surgery Device
New rules that make more Americans eligible for weight loss surgery were approved Wednesday by the U.S. Food and Drug Administration.
Previously, the use of Allergan's Lap-Band stomach restricting device was limited to people with a body mass index (BMI) of at least 40 if they had no obesity-related health problems such as diabetes and high blood pressure, and a BMI of at least 35 if they did have health issues.
Under the new rules, the device can be used on people with a BMI of at least 30 who have an obesity-related health condition. A BMI of at least 40 remains the threshold for otherwise healthy people, The New York Times reported.
"In order to target this therapy to patients who will benefit the most, the approved indication is limited to patients at the highest risk of obesity-related complications," said FDA spokeswoman Karen Riley.
Allergan estimated the changes will more than double the number of Americans eligible for the weight loss surgery (26 million instead of 15 to 18 million), the Times reported.
—–
Anti-Stress Chemical Triggers Hair Growth in Mice
Mice re-grew hair after being given a chemical compound that blocks a stress-related hormone, U.S. researchers say.
Their accidental discovery occurred when they gave astressin-B to mice that were genetically engineered to produce too much of the stress hormone corticotrophin-releasing factor (CRF). The chronic stress experienced by the mice causes them to lose the hair on their backs, Agence France-Presse reported.
Within a few months of receiving astressin-B, the mice had regained all their hair, said the researchers at the University of California, Los Angeles and the Veterans Administration.
"This could open up new venues to treat hair loss in humans through the modulation of the stress hormone receptors, particularly hair loss related to chronic stress and aging," said Million Mulugeta, of the David Geffen School of Medicine at UCLA, AFP reported.
The study appears in the online journal PLoS One.
​