Health Highlights: Feb. 17, 2010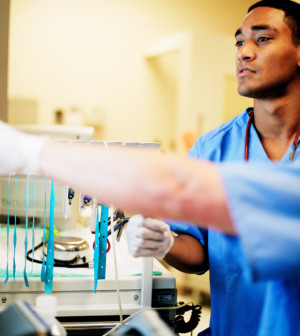 Here are some of the latest health and medical news developments, compiled by the editors of HealthDay:
Clinton Cites Lack of Sleep As Factor in Heart Problem
Former President Bill Clinton put some of the blame for the heart trouble that led to his hospitalization last Thursday on a lack of sleep while working to help Haitian earthquake victims.
According to the Associated Press, Clinton said that while he doesn't intend to work any less hard, he does hope to try and manage stress better.
Clinton, 63, was hospitalized overnight last Thursday after complaining of chest discomfort. Doctors inserted a stent to help unclog a blocked artery, and Clinton went home the following day.
The former president spoke about his health Wednesday at the Alliance for a Healthier Generation, which aims to improve heart health.
—–
More Than Half of U.S. Hospital Procedures Now Outpatient
Outpatient procedures accounted for nearly 58 percent of procedures performed at U.S. hospitals in 2007, says a federal government report.
Patients who undergo an outpatient procedure normally require hospital care for less than 24 hours. Outpatient procedures are becoming increasingly common as a result of advances in surgical technology and anesthesia.
Researchers analyzed 2007 data from 28 states and found that:
Hospital charges for outpatient procedures averaged $6,100, while inpatient procedures averaged $39,900.
Total hospital charges were $259 billion for inpatient procedures and $55.6 billion for outpatient procedures.
The most frequently performed outpatient procedures were colonoscopies and resulting biopsies (18 percent), upper gastrointestinal endoscopies and related biopsies (11 percent), eye lens and cataract procedures (5.5 percent), and diagnostic cardiac catheterization (4 percent).
The findings appear in the latest News and Numbers from the Agency for Healthcare Research and Quality.
—–
Polish Reactor to Provide Medical Isotopes
A reactor in Poland will help ease the worldwide shortage of a radioactive isotope used in medical procedures.
The Maria reactor near Warsaw is one of the world's most powerful research reactors. On Wednesday, a U.S. company announced it had signed a contract with the reactor's operators to supply the isotope technetium 99, which is used to measure blood flow in the heart and to help diagnose bone and breast cancers, The New York Times> reported.
Nearly two-thirds of the global supply of the isotope comes from two reactors, one in Canada and the other in the Netherlands. The Canadian reactor has been closed for repairs for nine months and isn't expected to reopen before April. The Dutch reactor will close for six months starting Friday.
While it's only able to supply a fraction of needed isotopes, the Polish reactor "could make the difference between being able to limp along and shutting down," Dr. Michael M. Graham, a professor of radiology at the University of Iowa and a member of the board of the Society of Nuclear Medicine, told The Times.
—–
Acupuncture May Help Relieve Menstrual Pain: Study
Acupuncture may help ease severe menstrual pain, say South Korean researchers who reviewed 27 studies that included nearly 3,000 women.
The researchers at the Kyung Hee Medical Center found that acupuncture was better than drug treatments at reducing severe period pain, BBC News reported.
While the review findings offer "promising evidence" that acupuncture is an effective treatment, the researchers added that there were methodological flaws in some of the studies and that the findings need to be interpreted with caution.
Their analysis appears in the British Journal of Obstetrics and Gynaecology.
—–
Lack of Blue Light May Affect Teens' Sleep Habits: Study
A lack of short-wavelength blue light may play a role in sleep cycle problems that make it difficult for many teens to get up in the morning, suggests a U.S. study.
It included 11 eighth-grade students who wore special goggles that block blue light but not other light wavelengths necessary for proper vision, the Associated Press reported.
The students wore the goggles from waking until the end of the school day. After five days of wearing the goggles, the students experienced a half-hour delay in the normal evening increase of a hormone (melatonin) that helps induce sleep.
Since daylight is the best source of blue light, the same internal body clock disruption likely occurs in teens who get to their bus stop before dawn or who spend their school days in mostly windowless buildings, said lead researcher Mariana Figueiro, of Rensselaer's Lighting Research Center in Troy, N.Y., the AP reported.
The study appears in the journal Neuroendocrinology Letters.
—–
More Salami Products Recalled
An expanded recall of salami products that may be contaminated with salmonella has been announced by Daniele International of Rhode Island, the U.S. Department of Agriculture's Food Safety and Inspection Service said Tuesday.
The additional 115,000 pounds of salami products were being recalled because of possible salmonella contamination from crushed red pepper. The products, distributed across the United States, have sell-by dates ranging from Feb. 3 through May 26, the Associated Press reported.
Last month, possible salmonella contamination prompted Daniele to recall more than one million pounds of salami coated in black pepper.
Tests are being conducted to determine if the salami products with red pepper contain the same strain of salmonella that sickened more than 200 people in at least 42 states since July 2009, the AP reported.
​