Health Highlights: Feb. 15, 2013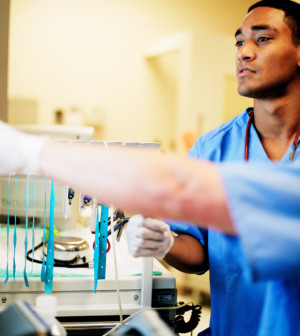 Here are some of the latest health and medical news developments, compiled by the editors of HealthDay:
Monster Beverage Corp. Will Add Caffeine Content to Energy Drink Labels
Monster Beverage Corp. says it is revising product labeling so that its energy drinks are no longer classified as dietary supplements, and the new labeling will include information on the drinks' caffeine content.
The new labeling is required by U.S. Food and Drug Administration guidelines for traditional drink products. The move comes as energy drink makers face increasing pressure to alert consumers to possible dangers of overconsumption of caffeine, CBS/Associated Press reported. Lawmakers have pressed the FDA to examine the safety of caffeine levels in energy drinks.
Monster's CEO told industry tracker Beverage Digest that product labeling for its energy drinks will switch from "Supplement Facts" to "Nutrition Facts," CBS/AP said.
Manufacturers of such drinks are currently allowed to categorize them as either a dietary supplement or a traditional drink. Once a product is classified as a traditional drink, companies are then restricted to using ingredients that are approved food additives or "generally recognized as safe," Elizabeth Campbell, a senior adviser at EAS Consulting Group, specialists in FDA affairs, told CBS/AP.
Accurate label information on energy drinks' caffeine content is thought to be important to safeguard consumers' health. A recent Consumer Reports investigation found that caffeine levels varied widely from brand to brand, leaving consumers with little guidance on whether they were drinking more caffeine than was good for them.
In October 2012, the FDA investigated five deaths and one heart attack linked to Monster Energy Drinks dating back to 2004, CBS/AP reported.
—–
​