Health Highlights: Feb. 10, 2011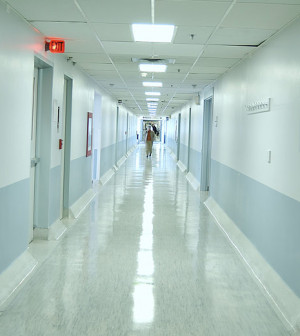 Here are some of the latest health and medical news developments, compiled by the editors of HealthDay:
Nearly Four Million U.S. Adults Treated for Kidney Disease Each Year
An average of 3.7 million adults in the United States were treated for kidney disease each year between 2003 and 2007, according to a federal government report.
Kidney disease, which can be caused by high blood pressure, diabetes and heart disease, may lead to kidney failure.
Between 2003 and 2007, spending for treatment of kidney disease averaged $25.3 billion (in 2007 dollars) per year. About half of the annual cost ($12.7 billion) was for outpatient care, $9.1 billion was for hospitalization, $1.5 billion for emergency room care, and $1.4 billion for prescription drugs.
Yearly per-patient costs averaged $16,315 for hospitalization, $4,581 for outpatient care, $1,607 for emergency department care, and $643 for prescription drugs, according to the latest News and Numbers from the Agency for Healthcare Research and Quality.
—–
Send Health Care Law Challenges to Supreme Court: Governors
In a letter sent Wednesday, 28 governors asked President Barack Obama to tell the U.S. Justice Department to seek an immediate Supreme Court review of constitutional challenges to the new health care law.
Those challenges have been filed in Virginia and Florida.
The governors said legal questions surrounding the law need to be resolved and there is no doubt that the constitutionality of the law's requirement that all individual have health insurance by 2014 will ultimately be decided by the Supreme Court, the Washington Post reported.
"We should not endure years of litigation in the circuit courts, when the Supreme Court can promptly provide finality," the governors wrote.
However, legal experts have said there is little chance the Supreme Court would hear the cases at this stage, the Post reported.
—–
Testosterone Blocks Ability to Read Feelings: Study
Testosterone interferes with a person's ability to read another person's eye expressions in order to deduce what they're feeling, says a new study.
It included 16 young women who were given testosterone under the tongue and asked to look at photographs of facial expressions from around the eyes in order to determine what the person is thinking or feeling, United Press International reported.
The administration of testosterone led to a significant reduction in the women's ability to do this type of mind reading, said the British and Dutch researchers.
They said the finding may help explain why men are generally worse at reading feelings than women, who have lower testosterone levels. The researchers also noted that autism affects males more than females, and these results offer further support for the theory that male sex hormones play a role in autism, UPI reported.
The study appears in the journal Proceedings of the National Academy of Sciences.
—–
Doctor in Octuplets Case Could Lose Medical License
A judge's recommendation that the fertility doctor who helped a California woman conceive octuplets be allowed to keep his medical license was rejected Wednesday by California's medical board.
Instead of losing his license, Dr. Michael Kamrava should be placed on five years' probation, Administrative Law Judge Daniel Juraez suggested weeks ago, the Los Angeles Times reported.
Kamrava has been accused of gross negligence and incompetence in his treatment of octuplets mother Nadya Suleman and two other female patients.
A panel of medical board members will now consider Kamrava's case before deciding whether to revoke his medical license, the Times reported.
The case could be considered as soon as the medical board's next scheduled meeting May 5.
—–
Congresswoman Gabrielle Giffords Now Speaking
Less than a month after she was shot in the head in an assassination attempt, Rep. Gabrielle Giffords of Arizona started speaking again by asking for toast.
The simple request represents another significant advance for the 40-year-old Democratic congresswoman, the New York Daily News reported.
The fact that Giffords has started speaking is proof that she is displaying "encouraging signs everyday," her astronaut husband Mark Kelly wrote in his wife's Facebook page. Kelly is back at work at NASA and will command the April 19 launch of the space shuttle Endeavour.
"It is hard to believe that only one month has passed since Gabrielle was shot," Kelly wrote. "The doctors say she is recovering at lightning speed considering her injury but they aren't kidding when they say this is a marathon process."
He also noted that Giffords is eating three meals a day "even though it's hospital food," the Daily News reported.
—–
​