Health Highlights: Dec. 28, 2009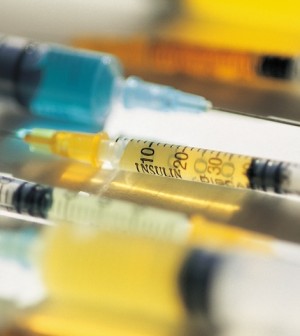 Here are some of the latest health and medical news developments, compiled by the editors of HealthDay:
Beef Recalled Because of E. Coli Concerns

Concerns about contamination with a strain of E. coli bacteria have led an Oklahoma-based company to voluntarily recall about 248,000 pounds of beef.
On its Web site, National Steak and Poultry says the beef products "could potentially be implicated in an outbreak" of illnesses related to E. coli, the Associated Press reported. This is the first recall in the firm's 30-year history, it said.
The U.S. Agriculture Department's Food Safety and Inspection Service noticed a link between non-intact steaks and a cluster of illnesses in Colorado, Iowa, Kansas, Michigan, South Dakota and Washington, the AP said. Non-intact steaks include cuts that have been injected with flavoring or tenderized, processes that allow surface bacteria to get inside the beef.
The E. coli strain has caused large-scale outbreaks of potentially deadly illness.
—–
Brain Blood Flow Controlled by Inner Ear: Study
A Harvard Medical School team has determined that the inner ear does more than control balance. Tiny organs deep within the ear also appear to alter blood flow to the brain, the researchers say.
From their study of 24 people, they concluded that this connection may have enabled early man to stand upright and still get blood pumped to the brain, the BBC said.
Using NASA tests designed for astronauts, the researchers assessed the balance organs, which are located deep inside bony chambers of the ear, and monitored blood flow through the body while the participants were tilting and spinning.
They reported their findings in the journal BMC Neuroscience, according to the BBC.
Dr. Jorge Serrador, who led the team, said the findings could potentially lead to new treatments for related conditions. For example, people who suffer from postural hypotension — meaning they faint or get dizzy spells when they stand up too quickly — might have poor brain blood flow related to an underlying inner ear problem, he said.
—–
New Guidelines Sought for Diseased Organ Donors
U.S. health experts are rethinking guidelines for kidney donors because of a brain infection that two transplant patients developed after receiving their new organs.
The University of Mississippi Medical Center in Jackson recently revealed that the child donor had a rare, often fatal infection that was not diagnosed until after the transplant, The New York Times reported. Before the surgery, it was thought the child had a brain disorder caused by a nontransmissible autoimmune disease.
Dr. Michael G. Ison, chairman of an advisory committee on infectious disease transmission for the United Network for Organ Sharing, which coordinates U.S. transplants, said the cases point out the need for a national policy governing donations from people with undefined neurological conditions. Currently, those decisions are left to transplant centers.
Ison's committee has begun studying nationwide data to see how many other similar patients have become donors, the Times said.
In 1 percent of cases, organ donors transmit diseases, including West Nile virus, rabies, HIV, tuberculosis and even cancer, the organ network says. More than 100,000 people are waiting for a transplant, the Times noted.
"This is a difficult topic, because organs are really scarce and patients who need a transplant are typically quite ill and need a transplant quickly, and sometimes it's hard to do all the testing that one could possibly think of for all the infections out there," said Dr. Eileen Farnon, an epidemiologist at the Centers for Disease Control and Prevention.
—–
Extremely Drug-Resistant TB Diagnosed in Florida

The first case of extremely drug-resistant tuberculosis in the United States was diagnosed in a teenager living in Florida.
The illness, discovered in a 19-year-old Peruvian, was not made public until it turned up in an investigation of global drug resistance by the Associated Press.
Health officials have long feared the emergence of an aggressive, contagious strain of TB, the top infectious killer of adults worldwide.
Forty years ago, it was thought that the development of powerful antibiotics heralded the end of TB, but overuse and misuse of those drugs has contributed to this virulent strain. Known as extremely drug-resistant (XXDR) TB, it has never before been seen in the United States, Dr. David Ashkin, an expert on tuberculosis, told the AP.
"This is the new class that people are not really talking too much about," Ashkin said. "These are the ones we really fear because I'm not sure how we treat them."
TB lies dormant in one in three people, according to the World Health Organization. Dr. Masae Kawamura, head of the Francis J. Curry National Tuberculosis Center in San Francisco, called the XXDR form of TB "a time bomb."
​