Health Highlights: Dec. 14, 2012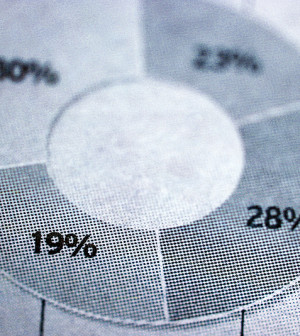 Here are some of the latest health and medical news developments, compiled by the editors of HealthDay:
Chlamydia, Gonorrhea Rates Rising in U.S.: Report
Chlamydia and gonorrhea infection rates are rising in the United States, says a Centers for Disease Control and Prevention report.
There were 1.4 million chlamydia infections reported to the CDC in 2011. The rate of cases per 100,000 people rose eight percent between 2010 and 2011, from 423.6 to 457.6, USA Today reported.
In 2011, there were 321,849 gonorrhea infections reported to the CDC. The rate of cases per 100,000 people increased four percent between 2010 and 2011, from 100.2 to 104.2.
There were 13,970 primary and secondary syphilis cases reported to the CDC in 2011. The rate remained the same (4.5 cases per 100,000) in 2010 and 2011. About 72 percent of the syphilis cases were among gay and bisexual men, USA Today reported.
—–
U.S. Troops Could Have Been Exposed to Nerve Agents in '91 Gulf War: Paper
There is evidence that nerve agents released by the bombing of Iraqi chemical weapons depots before the start of ground fighting in the 1991 Persian Gulf war could have been carried on the wind and fallen on U.S. troops staged in Saudi Arabia, researchers say.
That conclusion challenges the long-held Pentagon position that neurotoxins, particularly sarin gas, could not have traveled far enough to sicken American troops. Many scientists support that stance, The New York Times reported.
The authors of the new paper say their analysis of data from weather and intelligence documents support their theory that American bombs were powerful enough to send sarin from weapons depots in Muthanna and Falluja high into the atmosphere, where winds carried it hundreds of miles south to the Saudi border.
The paper, published in the journal Neuroepidemiology, was written by James Tuite and Dr. Robert Haley. They have written several papers claiming links between chemical exposures and what are known as gulf war illnesses in U.S. soldiers, The Times reported.
There is still no clear evidence that troops might have been exposed to levels of sarin high enough to cause illness, according to Dr. John Bailar, an emeritus professor at the University of Chicago who led a group that studied gulf war illnesses in 1996.
The stress of war, rather than chemical agents, might be a more likely cause of veterans' health problems, he told The Times
—–
Global Life Expectancy Increasing: Report
Life expectancy worldwide has increased in the past 20 years due to improvements in medical services, access to food and sanitation, along with public health efforts such as vaccine programs, according to a new report.
Developing countries have made especially large gains. For example, the average age of death in Brazil and Paraguay rose from 28 in 1970 to 63 in 2010. In contrast, progress in the United States has stagnated, The New York Times reported.
American women had the smallest gains in life expectancy of all high-income countries between 1990 and 2010. The two-year rise in life expectancy among American women was less than the 2.3 years gained by women in Cypress, or the 2.4 years gained by women in Canada.
As a result, American women fell from 22nd place in 1990 to 36th place in the latest global ranking of life expectancy, The Times reported.
Rising rates of obesity and the health effects of smoking are among the reasons for the slowing increase in American women's life expectancy, according to Christopher Murray, director of the Institute for Health Metrics and Evaluation.
The health research organization, which is financed by the Bill and Melinda Gates Foundation at the University of Washington, coordinated the report.
"It's alarming just how little progress there has been for women in the United States," Murray told The Times.
The report also said that infant deaths declined by more than half between 1990 and 2010 and that malnutrition, which was the No. 1 risk factor for death and years of life lost in 1990, had fallen to No. 8.
There's also been a sharp decline in deaths from diseases such as measles and tuberculosis, but chronic diseases such as cancer and heart disease now cause about two out of every three deaths worldwide, up from just over half in 1990, The Times reported.
For example, eight million people died of cancer in 2010, 38 percent more than in 1990. Diabetes killed 1.3 million people in 2010, double the number in 1990.
The report was published Thursday in The Lancet.
Some of the estimates in the report differ substantially from those done by United Nations agencies, while others are similar, the World Health Organization said in a statement.
—–
Falling TVs a Death Risk for Children: Officials
More than 200 children in the United States have been killed by falling TV sets since 2000, but parents are largely unaware of this potential threat, according to a report released Thursday by the federal Consumer Product Safety Commission.
The agency said falling TVs killed 29 people, mostly children, in 2011, making it one of the worst years on record for such deaths, USA Today reported.
The CPSC also said that 18,000 people a year, mostly children, are treated for injuries from falling TVs. Old, heavy TV sets can weigh 50 to 100 pounds.
Part of the problem is that people buy lighter flat-screen TVS and take their older, heavier sets out of the family room and put them on unstable bedroom dressers and playroom shelves, according to the agency.
"Children will climb up on furniture to try to turn the TV on and there goes the heavy television as well as the piece of furniture," said CPSC Chairman Inez Tenenbaum, USA Today reported.
—–
​