Health Highlights: Aug.24, 2011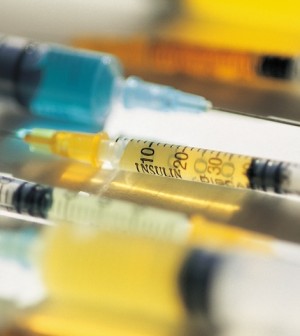 Here are some of the latest health and medical news developments, compiled by the editors of HealthDay:
Large Decline in Heart Failure Patient Death Rate
Deaths of hospitalized heart failure patients in the United States fell by nearly half between 2000 and 2007, from 55 to 28 deaths per 1,000 admissions, a federal government report says.
The largest drop — from 87 to 48 deaths per 1,000 admissions — was seen in people age 85 and older, according to the latest News and Numbers from the Agency for Healthcare Research and Quality.
Declines in other age groups were: a drop from 64 to 34 deaths per 1,000 admissions among patients 65 and older: from 28 to 15 for patients ages 45 to 64; and from 19 to 12 for patients ages 18 to 44.
The findings are based on an analysis of data in the 2010 National Healthcare Disparities Report.
—–
Ban Mesh Used in Pelvic Surgery: Petition
A type of surgical mesh used to treat pelvic collapse in women is associated with serious risks and should be banned, the U.S. consumer advocacy group Public Citizen says in a petition to the Food and Drug Administration.
The group says pelvic surgical mesh inserted through the vagina offers no benefits over traditional surgery with stitches, the Associated Press reported.
Last month, the FDA said that complications with the mesh are higher than previously estimated and that many patients experience bleeding, pain and infection. Last year, forms of the mesh were used in about 75,000 women who had prolapse surgery, according to the agency.
"Even the FDA seriously questions the safety and effectiveness of these mesh products, so they should be removed from the market immediately," said Public Citizen's Dr. Michael Carome, the AP reported.
—–
Battling Cancer, Steven Jobs Resigns as Apple CEO
Steven P. Jobs is giving up his position as Apple's chief executive.
"I have always said that if there ever came a day when I could no longer meet my duties and expectations as Apple's C.E.O., I would be the first to let you know," Jobs said in a letter released Wednesday by the company, The New York Times reported. "Unfortunately, that day has come."
He will now have the newly-created title of chairman.
Jobs, 56, had surgery for pancreatic cancer in 2004 and underwent a liver transplant in 2009. He's been off on medical leave since January, his third such leave, The Times reported.
—–
Experts Warn About Antibiotic Overuse
Overuse of antibiotics may be altering our overall bacterial makeup and causing an increase in illnesses, an expert warns.
Doctors must take more care when prescribing antibiotics in order to avoid overuse and antibiotic resistance, Dr. Martin Blaser, chairman of the department of medicine at New York University Langone Medical Center, says in an opinion piece in the journal Nature, ABC News reported.
The "dramatic increase" in many health problems, such as allergies, type 1 diabetes and inflammatory bowel disease, may be related to the destruction of protective bacteria through overuse of antibiotics, he suggested.
"Antibiotics are miraculous," Blaser told ABC News. "They've changed health and medicine over the last 70 years. But when doctors prescribe antibiotics, it is based on the belief that there are no long-term effects. We've seen evidence that suggests antibiotics may permanently change the beneficial bacteria that we're carrying."
Another expert agrees with Blaser.
"We use (antibiotics) without much care and without really thinking," Dr. Cesar Arias, an assistant professor of infectious disease at University of Texas Medical School, told ABC News. "People go to the doctor for a sore throat, which is usually viral, and they're get antibiotics."
"These drugs affect what we're colonized with, particularly the digestive tract," Arias explained. "If you alter your flora, you can promote certain superbugs to colonize in your gut and get into the bloodstream."
—–
​