Health Highlights: Aug. 2, 2011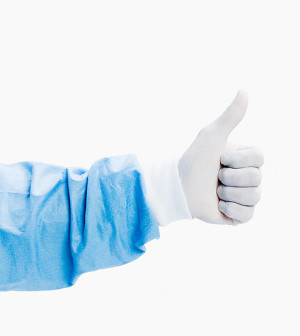 Here are some of the latest health and medical news developments, compiled by the editors of HealthDay:
Giffords Returns to House for Debt-Limit Bill Vote
Seven months after being shot in the head by a would-be assassin, Rep. Gabrielle Giffords returned to the House Monday to cast her vote on the debt-limit bill.
She used one hand to greet colleagues while her other hand remained at her side. She responded to the warm welcome from other lawmakers with a smile and mouthed "thank you" several times, the Associated Press reported.
The Arizona Democrat wore glasses and her hair was dark and closely cropped. She left the House chamber by the east door and required the support of an aide as she walked with obvious difficulty.
Giffords, who was accompanied by her husband Mark Kelly, did not respond to reporters' questions, the AP said.
—–
Brownies With Melatonin Unsafe: FDA
Melatonin-laced "Lazy Larry" brownies are unsafe and may be seized from store shelves, the U.S. Food and Drug Administration said in a warning letter sent to the Memphis-based company that makes the brownies.
Melatonin is a hormone that helps control the sleep-wake cycle. The brownies can make people sleepy and are advertised by HBB LLC as a stress reliever. Until July, the brownies were called "Lazy Cakes," the Associated Press reported.
The brownies are sold in some convenience stores and online through HBB's website.
The FDA says melatonin is not a safe food additive and the brownies are considered "adulterated" because they contain the hormone. The agency said it can seize the brownies if HBB continues to make and market them.
Company executives are reviewing the warning letter with lawyers, an HBB spokeswoman told the AP Monday.
—–
Deadly Radiation Levels Found at Fukushima Plant
Lethal levels of radiation have been detected in a part of Japan's Fukushima Daiichi nuclear plant, but the discovery won't slow attempts to bring the plant's damaged reactors under control, Tokyo Electric Power says.
The plant was damaged after the March 11 earthquake and tsunami and has continued to emit radiation since the disaster.
On Monday afternoon, workers found an area near Reactors No. 1 and 2 where radiation levels exceeded the highest reading (10 sieverts per hour) on their measuring device, The New York Times reported.
The workers who found the deadly levels of radiation near a ventilation tower were wearing antiradiation suits. The affected area has been closed off, company officials said.
They also said the high radiation levels in that area will not impede work to build a new reactor cooling system and remove contaminated water, The Times reported.
—–
Ground Turkey Source of Salmonella Outbreak
Contaminated fresh or frozen ground turkey is the cause of a salmonella food poisoning outbreak that's claimed one life and sickened at least 76 other people in 26 states since March, says a public health alert issued by the U.S. Department of Agriculture.
Tests on four ground turkey samples bought from stores between March 7 and June 27 showed they were contaminated with the salmonella strain linked to the outbreak, msnbc.com reported.
The strain of salmonella Heidelberg appears to be resistant to many common antibiotics, which may increase the risk of serious illness or hospitalization. The outbreak has led to the hospitalization of 22 people so far, according to the Centers for Disease Control and Prevention.
Illnesses related to the outbreak began on or after March 9 and have continued through Aug. 1, officials said. The reported number of illnesses in the 26 states range from 10 each in Ohio and Michigan and nine in Texas to only one in several states, msnbc.com reported.
Consumers are being told to cook fresh or frozen ground turkey to an internal temperature of 165 degrees Fahrenheit and to use a food thermometer to ensure the proper cooking temperature.
—–
Planned Parenthood Wins Legal Fight on Funding in Kansas
Implementation of a new Kansas law to prevent federal family planning funding to the state's Planned Parenthood chapter was blocked Monday by a federal judge.
The state must immediately resume funding for Planned Parenthood, U.S. District Judge J. Thomas Marten ordered, the Associated Press reported.
Unless it received its $330,000 in federal Title X annual funding, Planned Parenthood said it would have to close its clinic in the western city of Hays and that its 5,700 patients would face higher costs, longer wait or travel times to appointments, and less access to services.
Planned Parenthood is suing to block a state budget provision that channels federal family planning dollars to public health departments and hospitals, leaving no money for Planned Parenthood and similar organizations, the AP reported.
—–
Purina Cat Food Recalled
Bags of cat food that may be contaminated with salmonella are being recalled by Nestle Purina.
The recall includes 3.5- and 7-pound bags of Purina One Vibrant Maturity 7+ Dry Cat food with a "best by" date of May 2012. The 3.5 pound bags have production codes of 03341084 and 03351084 and UPC codes of 17800 01885, and the 7-pound bags have production codes of 03341084 and 03351084 and UPC codes of 17800 01887, the Chicago Tribune reported.
The recalled bags of cat food were shipped to customers in California, Iowa, Illinois, Indiana, Kentucky, Michigan, Minnesota, Missouri, North Dakota, Nebraska, Ohio and Wisconsin, but the food could have been taken to other states, the company said.
People who bought the cat food should stop feeding it to their cats and throw it away. Customers can get a refund by calling the company at 1-800-982-6559, the Tribune reported.
—–
​