Health Highlights: Aug.19, 2011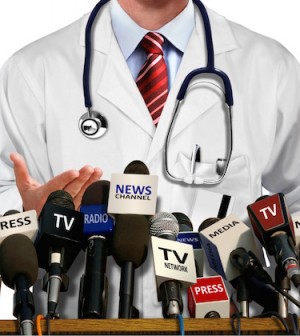 Here are some of the latest health and medical news developments, compiled by the editors of HealthDay:
Bill Clinton Now a Vegan
Former U.S. President Bill Clinton now considers himself a vegan, a far cry from his eating habits when he first reached the White House.
Back then, he loved foods such as steaks, chicken enchiladas, hamburgers, french fries and barbeque. He says he now consumes no meat, no dairy, no eggs, and almost no oil. His diet consists of healthy fare such as vegetables, fruits and beans, according to CNN.
Clinton says he's healthier than ever, has more energy and his goal is to slim down to 185 pounds, what he weighed when he was 13.
Clinton's road to better eating began in 1993 when first lady Hillary Clinton decided the White House needed a healthier menu. That led to new menu items such as soy burgers, salmon with vegetables and stir fry vegetables with tofu.
Since then, it's been an up and down food and weight battle for Clinton, who underwent a quadruple bypass in 2004. After undergoing angioplasty last year to open one of the veins from his bypass procedure, Clinton decided to avoid any food that could damage his blood vessels, CNN reported.
—–
Marijuana's Genetic Code Sequenced
A company that sequenced the entire genetic code of a marijuana plant says its achievement could help advance research into the use of Cannabis to treat diseases such as cancer and inflammatory disorders.
Massachusetts-based Medicinal Genomics published the raw sequence strings on Amazon.com's EC2 cloud-computing system, but the data has not yet undergone peer review, CBS News reported.
This breakthrough may help scientists find ways to eliminate the psychoactive effects of marijuana and enhance its medicinal benefits.
"This is the beginning of a more scientific approach to the genetics of the species," Richard Gibbs, director of the Human Genome Sequencing Center at the Baylor College of Medicine in Houston, told Bloomberg, CBS News reported. "This is not really about marijuana; it's about pharmacology."
—–
Perry Showed 'Poor Judgment' in Having Stem Cell Treatment
Experts are questioning Texas Gov. Rick Perry's decision to undergo an unproven stem cell procedure to fix his bad back.
Perry showed "poor judgment" in having the treatment, Dr. George Q. Daley, of Children's Hospital Boston and the Harvard Stem Cell Institute, told the Associated Press.
"As a highly influential person of power, Perry's actions have the unfortunate potential to push desperate patients into the clinics of quacks," who use unproven treatments "for everything from Alzheimer's to autism," said Daley, who is past president of the International Society for Stem Cell Research.
"I would never in a million years accept for one of my family members to undergo this," he added.
Perry, a GOP presidential candidate, underwent surgery July 1 to fuse part of his spine. Stem cells taken from fat in his body were grown in a lab and then injected into his back and bloodstream.
Doctors say risks associated with the treatment range from infection to blood clots to cancer and that the treatment may even break federal rules, the AP reported.
—–
Ground Turkey Salmonella Cases Rise to 111: CDC
As of Thursday, 111 people in 31 states have been reported ill in a salmonella outbreak linked to ground turkey products, according to the U.S. Centers for Disease Control and Prevention.
On Aug. 11, the reported number of cases was 107 people in 31 states.
The outbreak was traced to ground turkey products produced at a Cargill Inc. plant in Springdale, Ark. and a recall for about 36 million pounds of ground turkey was issued on Aug. 3. The plant has resumed limited production this week after additional antibacterial measures were approved by federal officials.
The salmonella strain involved in the outbreak is resistant to several commonly prescribed antibiotics, which increases the risk of hospitalization or possible treatment failure in infected people, the CDC said.
—–
​