Health Highlights: April 7, 2010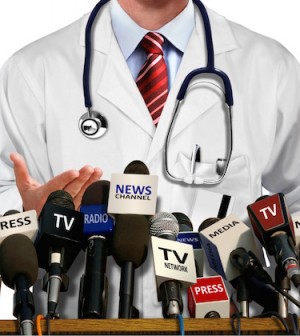 Here are some of the latest health and medical news developments, compiled by the editors of HealthDay:
Tennis Great Martina Navratilova Diagnosed With Breast Cancer
Tennis great Martina Navratilova has been diagnosed with breast cancer but her prognosis is believed to be excellent, according a story posted on the People magazine Web site Wednesday.
The article said the nine-time Wimbledon women's singles champion was diagnosed with a noninvasive type of breast cancer called ductal carcinoma in situ (DCIS), the Associated Press reported.
Navratilova received the diagnosis following a routine mammogram. She's undergone a lumpectomy and next month will begin six weeks of radiation therapy.
Each year, about 70,000 American women are diagnosed with DCIS. A surgeon at the University of California, San Francisco said "there's only a one percent chance anyone with this diagnosis would die of breast cancer," the AP reported.
—–
Teens With Lung Problems Use Risky Inhalants
American teens with respiratory problems are just as likely to use dangerous inhalants as those without lung problems, says a federal study released Wednesday.
The analysis of 2006-08 data collected from 67,850 young people found that about 4.4 percent of 12- to 17-year-olds with asthma, bronchitis, pneumonia and other breathing problems used inhalants in the past year, compared with 4.1 percent of young people without lung conditions, Dow Jones Newswires reported.
Otherwise healthy people who use inhalants (huffing) can develop breathing problems resulting in unconsciousness or death, and the risk may be even greater in those with respiratory problems, experts warn. Inhalants are easily accessible and can be highly addictive.
The study also found that American Indian and Alaskan Native teens are more than twice as likely as black teens to engage in huffing, Dow Jones reported.
"No one should engage in huffing. The consequences can be deadly," Pamela Hyde, administrator of the Substance Abuse and Mental Health Services Administration, said in a news release about the study, which was sponsored by SAMHSA.
—–
Con Artists Using New Health Law to Sell Bogus Policies
American consumers are being warned about scam artists trying to use the new health insurance law to sell fake policies.
Since the health reform bill was signed March 23 by President Barack Obama, some hustlers have been going door-to-door misleadingly telling people there's a limited open-enrollment period to purchase health insurance, while others have set up toll-free lines to sell phony policies, the Associated Press reported.
In a letter Tuesday, U.S. Health and Human Services Secretary Kathleen Sebelius urged state insurance commissioners and attorneys general to investigate and prosecute such scams to the fullest.
The issue is also on the radar of federal health-care fraud investigators.
"Unfortunately, scam artists and criminals may be using the passage of these historic reforms as an opportunity to confuse and defraud the public," Sebelius wrote in the letter, the AP reported.
—–
Young Adults Struggle After Leaving Foster Care: Study
A new study finds that young adults who grew up in foster care struggle to find jobs and stay out of trouble.
Researchers tracked 602 youths in Illinois, Iowa and Wisconsin who were required to leave foster care when they were 18 or 21 and found that only half of them were employed by their mid-20s, The New York Times reported.
The study also found that six in 10 men had been convicted of a crime and three in four women, many with children of their own, were receiving some form of public assistance. Only six in 100 of the former foster children had completed a college degree.
"We took them away from their parents on the assumption that we as a society would do a better job of raising them," said study leader Mark Courtney, a sociologist at the University of Washington, the Times reported. "We've invested a lot money and time in their care, and by many measures they're still doing very poorly."
Each year in the United States, about 30,000 young adults are "aged out" of foster care. This long-term study is the largest to follow these people over many years.
—–
EPA Proposes Adding 16 Chemicals to Toxics List
In the first expansion of the Toxics Release Inventory (TRI) in more than a decade, the U.S. Environmental Protection Agency is proposing adding 16 chemicals to the list.
The publicly available database contains information about toxic chemical releases and waste management activities reported each year by certain industries and federal facilities.
Based on a review of available studies, the EPA concluded that the 16 chemicals can cause cancer in humans. Public comment on the proposed inclusion of these 16 chemicals will be accepted for 60 days after the proposal appears in the Federal Register.
According to an EPA news release, four of the chemicals fall under the polycyclic aromatic compounds category. This category includes chemicals that are "persistent, bioaccumulative, toxic and are likely to remain in the environment for a very long time. These chemicals are not readily destroyed and may build up or accumulate in body tissue," the news release said.
Currently, the TRI contains information on nearly 650 chemicals and chemical groups from about 22,000 industrial facilities across the country.
​