Environment Crucial to Boosting Child's Reading Skills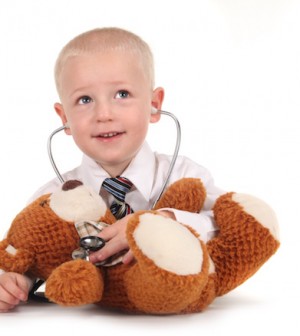 FRIDAY, Jan. 22Environment plays an important role in the growth of young children's reading skills, a new study finds.
"We certainly have to take more seriously genetic influences on learning, but children who come into school with poor reading skills can make strides with proper instruction," lead author Stephen Petrill, a professor of human development and family science at Ohio State University, said in a university news release.
"The findings support the need for sustained efforts to promote reading development in children that take both genetic and environmental influences into account," he added.
The study included 135 identical twins and 179 same-sex fraternal twins who were enrolled in kindergarten or grade 1, and their reading skills were assessed annually for the next two years. The researchers compared how the twins scored on the reading tests and then used a statistical analysis to determine how much genetics and environment influenced their progress.
Environmental factors included instruction in school, nutrition, how much the children were read to, and how they were cared for by their parents.
The researchers concluded that when children begin to read, both genetics and environment play a role in the development of skills, but to different degrees. In word and letter identification, environment explained about two-thirds of the test results, while genetics explained one-third. For vocabulary and sound awareness, genetics and environment had equal influence. Genetics accounted for 75 percent of results on reading speed tests, they noted.
However, when Petrill and colleagues measured the children's growth in reading skills, environment became a much more important influence. Environment is almost completely responsible for the growth of reading skills that are taught, such as words and letters, and 80 percent responsible for growth in awareness of sounds in reading.
"Regardless of where children start as far as reading skills, and the impact that genetics and environment had on their initial skills, we found that their environment had an impact on how fast or how slowly those reading skills developed," Petrill said in the news release.
The study findings are published in the online edition of the Journal of Child Psychology and Psychiatry.
More information
The Nemours Foundation has more about children's reading development.
Source: HealthDay
​