While Doctors Are Optimistic, Prognosis for Wounded Congresswoman Is Unclear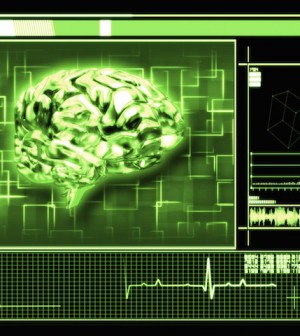 MONDAY, Jan. 10The bullet that scored a path through Rep. Gabrielle Giffords' brain on Saturday will likely cause some permanent damage, but experts aren't sure at this point how extensive that damage might be.
However, doctors at University Medical Center in Tucson who operated on the Arizona congresswoman immediately after the shooting are already encouraged by her ability to follow simple instructions.
They said Monday that Giffords was responding to verbal commands by raising two fingers of her left hand and even managed to give a thumbs-up, the Associated Press reported.
They also said her brain remains swollen, but the pressure isn't increasing — a good sign for her recovery, the AP said.
"That's why we are much more optimistic and we can breathe a collective sigh of relief after about the third day," said neurosurgeon Dr. Michael LeMole, who described Giffords' condition as stable.
Dr. David Langer, director of cerebrovascular research at the Cushing Neuroscience Institutes, part of North Shore/Long Island Jewish Medical Center in Great Neck, N.Y., said: "She's probably going to survive in all likelihood, but months or even a year from now we may not know what her ultimate prognosis will be."
"She'll likely have a deficit in the near term, but we don't know if she'll end up in a wheelchair like James Brady [President Ronald Reagan's press secretary who was injured by a bullet during a 1981 assassination attempt on the president] or a functioning congresswoman. We can't know," added Langer, who was not involved with Giffords' care.
The 40-year-old Giffords was gravely injured, 13 others were wounded, and six people, including a 9-year-old girl, were killed when a 22-year-old man, Jared Loughner, pulled out a semiautomatic Glock pistol in front of a Safeway supermarket in Tucson, where the congresswoman was meeting constituents. A Democrat, she was first elected to the House of Representatives in 2006.
But the fact that she's alive is a bit of a miracle.
According to Langer, 90 percent of people with gunshot wounds to the head die.
"This sounds like a relatively mild form of a gunshot wound and that does happen, based on the trajectory," Langer explained. "Certainly she has the opportunity to be as best as she can, given the aggressiveness of what [her doctors] have done. She has a chance of making a good recovery, but good has a lot of different meanings."
News reports say the bullet entered the back left of Giffords' brain and exited in the front, staying its course only on the left side of the brain.
"The back of the brain is the occipital and that controls the right side of your vision," said Dr. Anders Cohen, chief of neurosurgery and spine surgery at The Brooklyn Hospital Center in New York City. "I would say it's highly likely, if it entered the left occipital, she's going to have some vision impairment."
Beyond that, a great deal depends on the exact trajectory of the bullet, which isn't yet clear to those outside Giffords' operating room.
"Did it exit from the front or from the side? If it went all the way through, that would be her personality, her reasoning [assuming Rep. Giffords is right-handed]. That part of the brain is you," Cohen said. "The brain is real estate. It's all location, location, location. It depends on which part of the brain gets injured."
Giffords' doctors are already reporting that she is able to follow simple instructions, which might include asking her to raise two fingers, Cohen said. That's a positive sign.
"If the bullet had gone through the front, she wouldn't be following commands," Cohen added.
Giffords is being kept in a medically induced coma, which is deep sedation that allows the brain to rest. The coma requires a ventilator, so she can't speak. Doctors periodically lift her sedation to do tests and said she continues to respond well to commands, the AP reported.
But Giffords faces many near- and long-term challenges.
In the first 48 to 72 hours, the acute phase right after surgery, her brain has likely swollen from the accident so doctors are no doubt engaged in life-saving measures to keep the swelling down, which means administering steroid medications and removing part of the skull, Cohen said.
"The brain is tucked inside the skull, which is protection. Now it [the skull] becomes your enemy because it can't swell. It becomes a pressure cooker," he said.
The piece of the skull will be put back in place once the swelling subsides, but Giffords also faces the possibility of infection because a non-sterile object — the bullet — entered her body. She is likely receiving antibiotics for this, Cohen said.
Much also depends on the speed at which the bullet entered the brain. Speed sends off shock waves that can damage surrounding areas. There may also be bleeding or bone fragments, which add injury, Cohen explained.
"It's a series of hurdles for the victim," he said. "Whatever part of the brain that that bullet went through, even if it was a small cylinder of trajectory, that [area] is now permanently injured [but] the repercussions are unknown. There's some permanent and some recoverable damage depending on how injured that part of the brain gets," he added.
"It's a traumatic brain injury [but] she's young and she's otherwise healthy," Cohen said. "She'll be able to recover some and, depending on the injury, her recovery can take up to a year."
More information
The U.S. National Institutes of Health has more on traumatic brain injury.
Source: HealthDay
​