Medicaid Coverage 'Substantially' Improves Access to Care: Study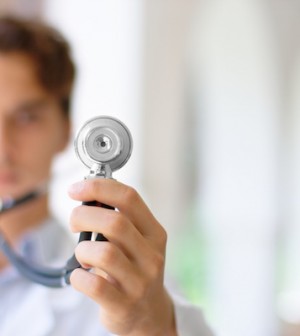 THURSDAY, July 7Expanding Medicaid coverage among low-income adults increases health care use, improves health and well-being and reduces the financial strain for people with the publicly funded health coverage, according to new research.
"This study shows that Medicaid substantially expands access to and use of care for low-income adults relative to being uninsured," co-principal investigator Katherine Baicker, professor of health economics at Harvard School of Public Health, said in a Harvard news release.
She and her colleagues looked at 10,000 low-income, uninsured adults in Oregon who were randomly selected in a 2008 state lottery to accept additional people into its Medicaid program. The health outcomes of these people were compared to the 80,000 applicants who weren't selected in the lottery.
The first year of the ongoing study showed that Medicaid coverage increases the likelihood of outpatient care by 35 percent, the use of prescription drugs by 15 percent, and of hospital admission by 30 percent. This leads to about a 25 percent increase in annual health care spending.
Medicaid coverage also increases the use of recommended preventive care such as mammograms by 60 percent and cholesterol monitoring by 20 percent. It also increases access to care. For example, people with Medicaid were 70 percent more likely than those without insurance to have a regular doctor's office or clinic for primary care, and were 55 percent more likely to have a particular doctor that they usually see.
Compared to uninsured people, those with Medicaid coverage were 40 percent less likely to have to borrow money or skip paying other bills to pay for health care, and 25 percent less likely to have an unpaid medical bill sent to a collection agency.
The researchers also found that the adults with Medicaid coverage were 25 percent more likely to report they were in good to excellent health, and 10 percent less likely to report being depressed.
The findings are published July 7 as a working paper (number 17190) on the website of the National Bureau of Economic Research. Support for the study was provided by the U.S. National Institute on Aging, the Centers for Medicare & Medicaid Services, the California Healthcare Foundation, and other foundations and government agencies.
"Some people wonder whether Medicaid coverage has any effect. The study findings make clear that it does. People reported that their physical and mental health were substantially better after a year of insurance coverage, and they were much less likely to have to borrow money or go into debt to pay for their care," co-principal investigator Amy Finkelstein, a professor of economics at MIT, said in the news release.
The researchers will follow the lottery participants for another year and directly measure health outcomes such as obesity, blood pressure, cholesterol and blood sugar control.
Under the Obama administration's Affordable Care Act, Medicaid coverage will be expanded to cover additional low-income adults in all states in 2014.
More information
The U.S. Centers for Medicare and Medicaid Services has more about Medicaid.
Source: HealthDay
​