For Older Men, Lowered Testosterone May Mean Muscle Loss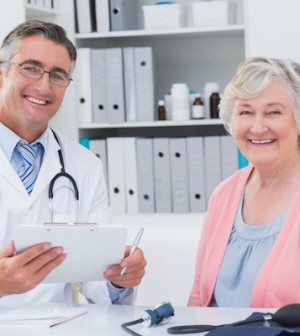 FRIDAY, Oct. 28 (HealthDay News) — Lowered testosterone levels are associated with the loss of lean muscle mass and lower body strength in older men, a new study finds.
Loss of muscle mass and strength contributes to frailty and is associated with mobility problems, falls and bone fractures, the study's authors say, and men lose more muscle mass and strength than women as they age.
That suggests that levels of sex hormones, particularly testosterone, could influence age-related changes in body composition and physical function, according to researchers led by Dr. Erin LeBlanc, of Kaiser Permanente Northwest in Portland, Ore.
Their study included almost 1,200 men aged 65 who had their levels of sex steroids measured and were then followed for an average of 4.5 years. Their body composition was checked using high-tech scans, and their physical abilities were evaluated through exercises that assessed lower extremity power, grip strength, walking speed and the ability to rise from a chair without the use of arms.
"Our study finds that men, aged 65 years and older, with higher testosterone levels lost less muscle mass, especially in their arms and legs, than men this age who had lower testosterone levels," LeBlanc said in an Endocrine Society news release.
"Men who had higher testosterone levels before they lost weight also lost less leg function and could stand up more easily from a chair than men who had lower testosterone levels before they lost weight," she noted.
"The amount of testosterone men have in their bodies may contribute to how much muscle and strength they lose as they get older," LeBlanc concluded.
One expert wasn't surprised by the findings, but added that they are no reason to urge older men towards supplemental testosterone.
The study "confirms that higher blood levels of testosterone in older men is associated with less of the loss of muscle mass that occurs with aging," said Dr. Stuart Weinerman, chief of the division of endocrinology at North Shore-LIJ Health System in New Hyde Park, N.Y. But he stressed that "this is a prospective epidemiological study, not a controlled trial, so that other variables may be present. For example, patients with low testosterone were more likely to have diabetes."
Weinerman added that "this study should not be interpreted as evidence that hypogonadal men [those with decreased testosterone output] should begin testosterone replacement. The risks and benefits of testosterone replacement can only be studied in larger, randomized controlled trials."
Another expert said testosterone levels may need watching as men age.
"Physicians should be checking testosterone levels in men older than age 65, discussing loss of muscle mass and potential of falls and resulting fractures," said Dr. Spyros Mezitis, an endocrinologist at Lenox Hill Hospital in New York City. "Further research is needed to define the association of low testosterone levels and decrease in physical function," he added.
The study, funded by grants from the U.S. National Institutes of Health, is slated to be published in the Journal of Clinical Endocrinology & Metabolism.
More information
The U.S. National Institute on Aging offers tips for health aging.
Source: HealthDay
​