Docs, Families May Underestimate Patients' Odds After Some Strokes: Study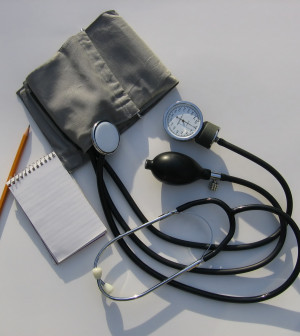 THURSDAY, Feb. 7Doctors may sometimes be too pessimistic about a patient's potential for recovery after a major bleeding incident occurs in the brain, a new study suggests.
As a result, some families could be deciding to stop their loved one's life support too soon, pre-empting the possibility of successful rehabilitation and recovery from a certain form of stroke.
The research found that more than one-third of people who have had life support stopped after having a type of bleeding in the brain called an intracerebral hemorrhage — considered the most lethal form of stroke — might have eventually regained an acceptable level of functioning if the life support had been maintained.
According to the American Stroke Association, hemorrhagic stroke accounts for about 13 percent of the 795,000 stroke cases that occur every year in the United States.
"It has become clear that we're probably not fantastic at predicting outcomes in these patients," said Dr. David Tirschwell, lead study author and co-director of the University of Washington Stroke Center at Harborview, in Seattle. "There seems to be some built-in pessimism among doctors about how patients will do."
According to Tirschwell, the crystal ball can often be rather cloudy in these cases. Most decisions to withdraw life support are made by a spouse or family members in consultation with physicians in the first few days after hospitalization from the intracerebral hemorrhage, he noted.
The new research suggests that this time frame is often too soon for doctors to be able to offer a reliable estimate of the patient's chances for recovery. "People can look pretty bad today, but it's hard to make the leap about what things might be like a number of months down the line," he explained.
Intracerebral hemorrhage results from a weakened vessel that ruptures and bleeds into the surrounding brain. The blood accumulates and compresses the surrounding brain tissue.
The study, scheduled to be presented Thursday at the American Stroke Association's annual meeting in Honolulu, estimated what outcomes might have occurred among a group of patients if they had had more aggressive care.
The researchers began by studying the records of a group of 590 patients 18 years or older who had severe intracerebral hemorrhages and were admitted to Seattle's Harborview Medical Center between 2005 and 2008.
From those patients' records, they identified factors that could be associated with the withdrawal of life support, such as age; functional status before the brain attack; degree of brain damage; size of the hemorrhage; preexisting medical conditions such as high blood pressure, diabetes and atrial fibrillation (a dangerous form of irregular heartbeat); first temperature after hospitalization; and whether the patient had a breathing tube in place for respiratory support.
The researchers then matched 78 people who were removed from life support with 78 who were not, making sure each pair shared a similar set of factors. The study found that about 38 percent of patients who had had life support withdrawn might have had an acceptable outcome if life support had continued.
Tirschwell described the study as "more of a demonstration than proof of anything in particular," noting that it does show that a positive outcome is possible in patients for whom that may not have been predicted. He also noted that for some older patients with low levels of functioning before the hemorrhagic stroke, it might not be inappropriate to withdraw life support.
"It's complex; our message only is to be cautious in predicting outcomes and don't be overly pessimistic," Tirschwell said.
Because this study was presented at a medical meeting, the data and conclusions should be viewed as preliminary until publication in a peer-reviewed journal.
Why might physicians be prone to be overly pessimistic about these patients? Tirschwell said he thinks many of the health care providers in hospitals don't have either a long-term perspective or the benefit of seeing how many of these people progress through rehabilitation.
He also explained that physicians and family members often overestimate the challenge of potential disability when they're deciding if they should withdraw life support. "Even if Dad loved to play golf [and won't be able to do that anymore], people have an amazing ability to adjust to new circumstances. They often report a very acceptable quality of life," Tirschwell said.
But Dr. Rafael Ortiz, director of the Center for Stroke and Neuro-Endovascular Surgery at Lenox Hill Hospital in New York City, expressed some concerns about the study. He said that while more cases may be reversible than ever before recognized, physicians need to be sensitive to how people would define a "good quality of life" for themselves.
"For some, it is going back to work and having a completely normal life," he noted. "Some people go back to a normal life. But the majority will have some disability, and some will have severe disability or death."
More information
Find out more about hemorrhagic stroke at the Dana Foundation.
Source: HealthDay
​