Better Screening Urged for Self-Injury in Teens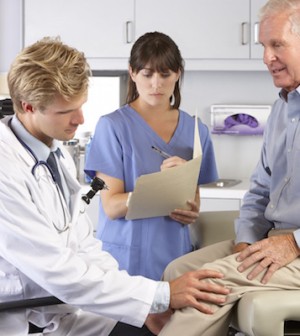 MONDAY, Sept. 27Doctors often fail to screen their adolescent eating-disorder patients for evidence of self-inflicted physical harm in the form of cutting or burning, new research reveals.
The observation stems from work conducted by researchers at the Stanford University School of Medicine and Lucile Packard Children's Hospital in Palo Alto, Calif.
Led by Dr. Rebecka Peebles (who conducted the study while a Stanford pediatrics instructor), the research team published its findings in the Sept. 28 online edition of the Journal of Adolescent Health.
Peebles and her colleagues noted that eating disorders typically found among adolescents, such as bulimia and anorexia, are often associated with a higher risk for self-inflicted injury. This, Peebles noted in a Stanford news release, often stems from a troubled patient's need to try "to feel pain."
"Patients describe a feeling of release that comes when they cut or burn themselves," she said. "They'll cut with a razor or a scissor blade. Sometimes we've even had kids who will take the tip of a paper clip and gouge holes. To burn themselves, they'll heat up a metal object and press it to their skin, or they'll use cigarettes."
Prior research has indicated that between 13 percent and 40 percent of all American adolescents engage in some form of self-injury. The practice is also linked to a higher risk for suicide, the study authors noted.
To see how often this happens and how often doctors proactively screen for the association, the investigators focused on the medical records of 1,432 patients between the ages of 10 and 21 years, who had sought treatment for an eating disorder at the Comprehensive Eating Disorders Program at Packard Children's Hospital between 1997 and 2008.
More than 90 percent of the patients were female, three-quarters were white, and the average age was 15, the researchers noted.
Nearly 41 percent were found to have engaged in intentional self-inflicted injury. More than 85 percent of the time this took the form of cutting themselves. Yet despite the high prevalence, only about half of the patients had been asked by hospital staff if they had hurt themselves on purpose.
Those who were asked tended to fit a classic profile: they were female, older, white and had a diagnosis of bulimia and/or substance abuse of some kind.
"The question is," said Peebles, "are we missing other kids who are not meeting this profile? This is part of why we wanted to look at this. If you see an innocent-looking 12-year-old boy, you don't even think of asking about self-injurious behavior. We need to get much better about universal screening."
The study pointed out that universal screening, in fact, could alter the so-called classic profile the authors observed by reaching patients not typically suspected of being vulnerable to the self-injury impulse.
The hospital now has a policy of proactively inquiring about self-injury among all new patients.
"We ask 97 percent of children 12 years and up if they smoke cigarettes," Peebles noted. "We need to get that good with screening for self-injurious behavior."
More information
For more on adolescent self-injury risk, visit the Center for Young Women's Health.
Source: HealthDay
​