Nationwide Recall of Eggs Linked to Salmonella Expanded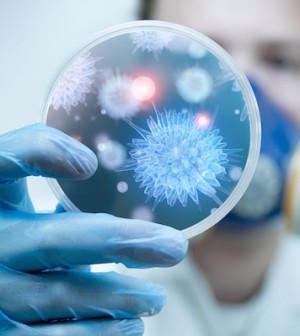 THURSDAY, Aug. 19An Iowa company at the center of a massive recall of eggs linked to salmonella contamination dramatically broadened the nationwide recall on Wednesday to 380 million eggs.
The nationwide salmonella outbreak, which federal officials said was the largest of its type related to eggs in years, has sickened more than 250 people in at least four states.
The outbreak, which apparently began in May, appears to be ongoing, the U.S. Centers for Disease Control and Prevention (CDC) said. The outbreak began several weeks before the July introduction of new federal safety rules intended to reduce the risk of salmonella in eggs, The New York Times reported.
At a news conference Thursday afternoon, federal health officials said they had received nearly 2,000 reports of salmonella poisoning from May to July. But the officials couldn't say how many of these cases were related to the current egg recall.
However, more cases of salmonella poisoning due to infected eggs can be expected, said Dr. Christopher R. Braden, acting director of the CDC's Division of Foodborne, Waterborne and Environmental Diseases.
"I would anticipate that we will be seeing more illnesses reported as a result of this outbreak," he said, citing the lag in time when a person can get sick and then reports of an illness are forwarded to the CDC.
On Aug. 13, the CDC said: "There have been confirmed Salmonella enteritidis illnesses relating to the shell eggs and traceback investigations are ongoing."
The outbreak has been tracked to in-shell eggs from Wright County Egg in Galt, Iowa, which launched the recall. Its eggs were distributed to wholesalers and food-service companies nationwide under multiple brand names: Lucerne, Albertson, Mountain Dairy, Ralph's, Boomsma's, Sunshine, Hillandale, Trafficanda, Farm Fresh, Shoreland, Lund, Dutch Farms and Kemps.
According to state health officials, the salmonella-contaminated eggs have sickened at least 266 Californians, 28 people in Colorado and seven people in Minnesota. Clusters of suspicious cases have also been reported in Arizona, Illinois, Nevada, North Carolina, Texas and Wisconsin, the Associated Press reported.
The recall covers eggs in their shells packed between May 16 and Aug. 13. They come in cartons ranging from six to 18 eggs and are marked with plant numbers P-1026, P-1413 and P-1946. The eggs should be returned for a refund.
The U.S. Food and Drug Administration currently has teams on site at Wright County Egg, spokeswoman Patricia El-Hinnawy said.
"Wright County Egg is fully cooperating with FDA's investigation by undertaking this voluntary recall," the company said in a statement, according to ABC News. "Our primary concern is keeping salmonella out of the food supply and away from consumers."
Salmonella can cause fever, abdominal cramps and diarrhea and usually lasts four to seven days.
The FDA advised consumers to:
Toss recalled eggs or return them to the store for a refund.
See a doctor if you think you are ill after eating recalled eggs.
Keep eggs refrigerated at all times.
Throw out cracked or dirty eggs.
Wash hands, utensils and preparation surfaces with soap and water after contact with raw eggs.
Cook eggs until both the white and the yolk are firm and eat promptly after cooking.
The agency also warned consumers not to keep eggs warm or at room temperature for more than two hours, and not to eat raw eggs or restaurant dishes made with raw, undercooked or unpasteurized eggs.
Eating undercooked eggs should also be avoided, especially by young children, the elderly and people with weakened immune systems or debilitating illness, the agency added.
The New York Times reported that Wright County Egg has had "run-ins" with regulators over poor or unsafe working conditions, environmental violations, as well as the hiring of illegal immigrants and the harassment of workers.
Hinda Mitchell, a spokeswoman for Wright County Egg, said the company had put the required federal safety measures to protect against salmonella in eggs in place before the July deadline, the Times reported.
Meanwhile, the Umpqua Dairy Products Co. has recalled certain milk and drink products sold in Oregon, southwestern Washington state and northern California after a strain of salmonella bacteria that has sickened 23 people was linked to its milk plant, the AP reported.
The Oregon Department of Human Services said tests showed that 23 Oregon residents had matching DNA patterns of the salmonella braenderup strain. Two people were hospitalized, the news service said.
Harmful bacteria such as salmonella are the most common cause of foodborne illnesses, according to federal health officials.
More information
For more information on salmonella, visit the U.S. Centers for Disease Control and Prevention.
Source: HealthDay
​