Yoga May Combat Fibromyalgia Symptoms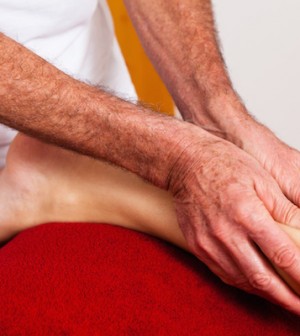 THURSDAY, Oct. 14Yoga that includes gentle stretches and meditation may help alleviate the symptoms of fibromyalgia, a small study finds.
Twenty-five women diagnosed with fibromyalgia, a chronic pain syndrome, were enrolled in a two-hour yoga class that met once a week for eight weeks. Another group of 28 women diagnosed with the condition were put on a waiting list and told to continue their normal routine for dealing with fibromyalgia.
After eight weeks, the yoga group reported improvements in both physical and psychological aspects of fibromyalgia, including decreased pain, fatigue, tenderness, anxiety and better sleep and mood.
"The women were somewhat apprehensive when we started, but once they got into the rhythm of it they found it to be very helpful," said lead study author James Carson, a
clinical psychologist and pain specialist at Oregon Health & Science University in Portland. "They came back after the first week reporting less pain, better sleep and feeling encouraged for the first time in years. That type of change continued to build over the course of the program."
At the end of the study, about 4.5 percent in the yoga group reported being "very much better," 9.1 percent said they were "much better," 77 percent were "a little better" while 4.5 percent reported no change. In comparison, no one in the the control group reported that they were "very much better" or "much better," 19.2 percent reported being "a little better," and 38.5 percent reported "no change."
Average pain scores dropped from a 5 to a 4 on a 10-point scale, although there was no improvement in the overall "tender point" score.
The study was limited by its small sample, absence of follow-up and over-reliance on self-reported data, the researchers noted.
The study, published online Oct. 14, is in the November print issue of the journal Pain.
No cure exists for fibromyalgia, which is characterized by multiple tender points, fatigue, insomnia, anxiety, depression, and memory and concentration problems. Some 11 to 15 million Americans have the debilitating condition, about 80 to 90 percent of them women, according to background information in the article.
Fibromyalgia can be very difficult to treat, with many patients reporting little relief from medications, said Dr. Bruce Solitar, a clinical associate professor of medicine in the division or rheumatology at NYU Langone Medical Center in New York City.
Yoga is probably worth trying, Solitar said. But he noted that patients in the study were in a yoga class specially tailored to their needs and said the class at a local yoga studio might be too intense.
The yoga sessions evaluated in the study included 40 minutes of gentle stretching and poses, 25 minutes of meditation, 10 minutes of breathing techniques, a 20-minute lesson on applying yoga principals to daily life and coping with fibromyalgia and 25 minutes of group discussion. Participants were also encouraged to practice at home with a DVD on most days.
Though it's unknown how much of the positive effect shown in the study is the "placebo" effect of doing something that feels empowering vs. something special about the yoga and meditation itself, that may be beside the point if people feel better, Solitar said.
"Many patients report that not much helps them, so anything that's positive is a very good thing," Solitar said.
In the study, women practiced Yoga of Awareness, a type of yoga developed by Carson, a yoga and meditation instructor, and his wife, study co-author Kimberly Carson. Carson taught the class. (Carson reported no financial considerations that would cause a conflict of interest.)
Yoga of Awareness draws from the Kripalu school of yoga, Carson said, which emphasizes the "inner dimensions" of yoga, such as accepting pain and being willing to learn from pain and stressful circumstances, being mentally "present in the moment" and learning to distinguish between actual events and the mind's tendency to "catastrophize" pain — that is, thinking it's the worst pain ever when really it's manageable, he said.
Previous research showed Yoga of Awareness improved pain, fatigue, sleep and mood in women with breast cancer, Carson said.
It's unknown what aspects of Yoga of Awareness are the most beneficial, but Carson said he believes the exercise, meditation and the social aspects all contribute.
"It's the combination that has a synergistic effect," Carson said. "Our mind and body are very connected, but we are often not aware of that fact. Techniques like yoga really reinforce that connection and make us much more conscious of the fact that our thoughts and our feelings are affecting our body, and our body is affecting how we think and feel."
If you have fibromyalgia and are looking for a yoga class, Carson recommended seeking out a class advertised as "gentle" and making sure the instructor knows you have physical challenges so that poses can be modified.
Since many yoga classes don't incorporate much meditation, Carson also recommends seeking out a meditation class, which teaches breathing exercises to reduce stress and cope with pain.
A study published in August in the New England Journal of Medicine found tai chi may also help give fibromyalgia sufferers some relief. Like yoga, tai chi is a mind-body exercise that emphasizes slow, gentle movements to build strength and flexibility, as well as deep breathing and relaxation, to move qi, or vital energy, throughout the body.
More information
The U.S. National Center for Complementary and Alternative Medicine has more on yoga.
Source: HealthDay
​