To Help Keep Weight Off, Turn to the Web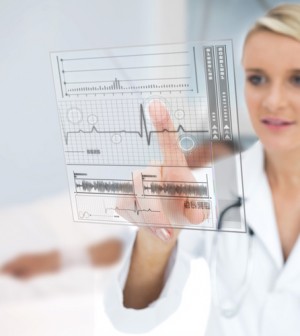 TUESDAY, July 27 Worried about whether the weight you just lost will stay lost? Seeking out the right Web site might help, a new study suggests.
People who shed pounds and then consistently logged on to a specially designed Internet site for weight maintenance were better able to maintain a significant portion of their weight loss than people who logged on less often, new research finds.
When people checked in to the Web site at least once a month to record their weight or food consumption over a two-and-a-half year period, they were able to maintain an average of 9 pounds of their original 19-pound weight loss. In contrast, those who checked in regularly for just 14 months during that time were only able to maintain 5 pounds of their weight loss.
Those who logged in even less often were only able to maintain 3 pounds of their initial weight loss.
"The bottom line is that we think the Internet is a helpful tool for weight loss maintenance," said the study's lead author, Kristine Funk, a research associate at Kaiser Permanente's Center for Health Research in Portland, Ore. "People who used the study-designed interactive Web site had better results than people who used it less often. The key seems to be, 'How do I make these new habits something that I'm doing for a lifetime?'"
The site used in the study is no longer available, but experts cite key factors that can make any weight-loss Web site useful to those hoping to stay slim.
The study, funded by the U.S. National Institutes of Health, was published online on July 27 in the Journal of Medical Internet Research.
While losing weight is a challenge, keeping lost weight from coming back seems to be an even bigger challenge for many, according to Funk. Because an estimated 44 percent of middle-aged Americans have used the Internet for fitness and exercise information and almost one-third have used the Web for weight control information, her team designed an Internet-based tool to help with weight maintenance.
The 348 participants involved in the Internet-based weight maintenance phase of this study had a body mass index of 25 or higher (a BMI of 25 is considered overweight, over 30 is considered obese), and were considered high risk for cardiovascular disease because they either had high blood pressure or high cholesterol.
The Web site was available to the study volunteers for 30 months. The site was designed to support weight maintenance efforts through:
Reinforcing existing behavioral self-management
Encouraging new self-management skills
Improving self-monitoring
Encouraging long-term use of the Web site by providing innovative content
Promoting social support
After 28 months, 65 percent of the study participants were still actively logging on, according to the study. Fifty percent of the study volunteers logged on at least 107 times and spent over 400 minutes on the Web site, with each session lasting an average of 3 to 5 minutes.
If the study participants didn't record their weight at least once a week, they would receive email reminders to check in.
"Participants who used the site most often and consistently throughout the study had better weight maintenance results than those who didn't use it as often. Consistency and accountability are key," said Funk. She added that the social support from others available on the site, as well as its interactive content, likely also played roles in weight maintenance success.
Round-the-clock access was key, too. "Personal counseling is probably the Cadillac of weight loss and weight maintenance plans, but the availability of the Internet was a big part of the success here. The Web site was available 24/7," she noted.
"I think that it's good to show what needs to be emphasized when it comes to weight control. It's important that there are scaleable ways to measure success, although the scale isn't the only measure of success," said Madelyn Fernstrom, founding director of the University of Pittsburgh Medical Center's Weight Management Center.
"I think the Internet has to be the way to get this kind of accountability. While past studies have shown that face-to-face is best, people online can do well, too. And, people coming in once a week [for face-to-face counseling] isn't always feasible," said Fernstrom.
"I think there are some good sites already out there," she added. "Maybe health plans or providers need to screen what's already available out there."
More information
Get advice on choosing the right weight loss program for you from the U.S. National Institute of Diabetes and Digestive and Kidney Diseases.
Source: HealthDay
​