Slower Walking Speed Linked to Surgical Risk in Elderly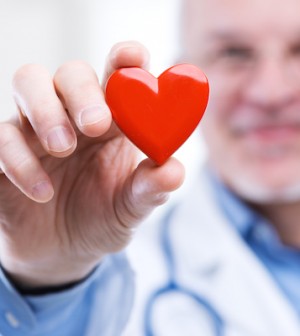 THURSDAY, Oct. 27Older people who walk more slowly than their peers may be at greater risk for complications and disability following surgery, according to a new study.
Researchers from the University of Colorado said surgeons should assess the elderly differently than younger patients and take walking speed into account when determining surgical risks.
"This approach may lead to a more individualized way of deciding who should undergo surgery. We are designing tests to get away from chronologic age, and instead are now focusing on physiologic age," said study co-author Dr. Thomas Robinson, an associate professor of surgery, in a American College of Surgeons (ACS) news release.
Frailty, a condition marked by muscle loss, fatigue and a lack of physical resiliency, can be revealed by a slow gait or walking speed, the researchers said. In these cases the stress of an operation could lead to serious complications, they said, which could be avoided by assessing walking speed in a simple test before surgery.
The new research is what's known as a "proof of concept" study, which uses a small number of strictly selected patients to show an effect. It does not have the scientific rigor of a randomized controlled trial.
Researchers followed 195 patients aged 65 and older having heart or colorectal surgery. Before surgery, the researchers gave the patients a short timed walking test. After completing the test, the patients were classified as fast (10 seconds or fewer), intermediate (between 11 and 14 seconds) or slow (15 seconds or more).
The study showed 73 percent of the "slow" walkers who had heart surgery were afterward sent to an institutional care facility, compared with 17 percent of the "fast" walkers.
In addition, the researchers found that the slow walkers spent an average of two more days in the hospital than the fast group. Only 13 percent of the fast walkers had more than one complication following surgery, compared with 37 percent of the slow group.
Nearly 60 percent of slow walkers who had a colorectal operation needed institutional care after surgery, compared with 5 percent of the fast group, the study found. Of these, slow walkers spent eight more days in the hospital than fast walkers, and just 20 percent of fast walkers had more than one surgical complication, compared with 56 percent of the slow group.
"Our study showed that this timed-up-and-go test is a very sharp predictor of complications and mortality," said study co-author Dr. Daniel Wu, chief surgical resident at Denver Veterans Affairs Medical Center, in the news release. "It's a cheap and simple test that may eventually lead to a change in preoperative care. You really only need a stopwatch to perform this test and the implications are huge."
Since more than half of all operations in the Unites States are performed on people aged 65 years and older, the authors said that better ways to define surgical risks are critical.
"The bottom line is that we can no longer assess 80-year-olds in the same way as 25-year-olds," said Wu in the release.
The authors said they plan to conduct more research on other indications of frailty in the elderly, such as cognition, nutritional status and grip strength to create a comprehensive test to better determine surgical risks among older patients.
The study was slated for presentation on Wednesday at the 2011 Annual Clinical Congress of the American College of Surgeons. With studies presented at medical meetings, the data and conclusions should be viewed as preliminary until published in a peer-reviewed journal.
More information
The University of Chicago's Department of Disability and Human Development provides more information on frailty in the elderly.
Source: HealthDay
​