Ski Helmets Encouraged for All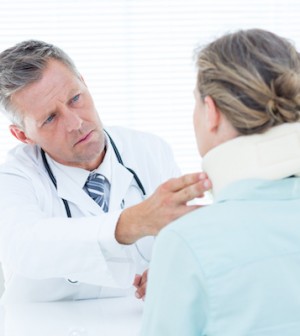 SUNDAY, Feb. 7Helmets reduce skiers' and snowboarders' risk of head injury by 35 percent and don't increase the risk of neck injury, a new study shows.
Some people believe that helmets may increase the risk of neck injury when skiers and snowboarders fall, particularly children, who have a greater head-to-body ratio.
In this study, Canadian researchers analyzed the findings of 12 studies conducted in Asia, Europe and North America and concluded that helmets were beneficial.
"The use of helmets significantly protects against head injuries among skiers and snowboarders," wrote Brent Hagel, of Alberta Children's Hospital, and colleagues. "Risks of head injury can be reduced by 35 percent."
"Based on this evidence, we encourage helmet use," they concluded.
The study was published Feb. 1 in the Canadian Medical Association Journal.
Data from numerous countries suggest that head injuries account for up to 19 percent and neck injuries up to 4 percent of all ski and snowboard injuries reported by ski patrols and emergency departments. Among skiers and snowboarders, traumatic brain injury is the leading cause of death and serious injury.
More information
The American Association of Neurological Surgeons has more about sports-related head injuries.
Source: HealthDay
​