Pre-Run Stretching Doesn't Prevent Injuries, Study Finds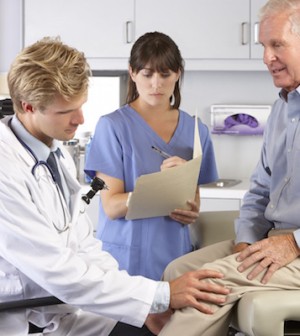 THURSDAY, Feb. 17Runners who stretched before running were no less likely to get injured than runners who didn't bother to stretch, new research finds.
To investigate the effect of stretching on running injuries, researchers divided more than 2,000 runners into two groups. One group stretched the quadriceps, hamstrings and calf muscles for three to five minutes before starting their run; the other group didn't stretch. About 1,400 of the runners completed the study and were included in the final results.
"Over a period of three months, it did not make any difference if you stretched or didn't stretch before a run," said lead study author Dr. Daniel Pereles, director of sports medicine at Montgomery Orthopaedics in Kensington, Md., and an assistant clinical professor at George Washington University.
The study was to be presented Feb. 18 at the American Academy of Orthopaedic Surgeons' annual meeting in San Diego.
The runners who completed the study were at least 13 years old and ran 10 or more miles a week.
The overall injury rate was relatively high, with about 16 percent having an injury painful enough to cause them to miss a week or more of running, Pereles said.
People with a higher body mass index (BMI) and those who had recent or chronic injuries were more likely to get injured, as were older runners and people who ran more miles a week. Injuries to the feet and ankles were most commonly reported, followed by knee injuries.
And in a finding Pereles said he's not sure how to interpret, people who switched their normal routine — that is, people who normally stretched but stopped stretching for the study, and people who didn't normally stretch but started for the study — were more likely to get injured.
Non-stretchers who started stretching had a 22 percent increased chance of injury compared to non-stretchers who stuck with their routine, while stretchers who stopped stretching had a 40 percent higher chance of injury.
"If you switch your normal behavior, you increase your chances of injury, but we're not sure why this is," Pereles said.
The debate over the benefits of stretching has raged among runners for decades. The thought was that stretching prior to exercise lengthens muscle fibers, which enables the body to absorb more shock and stress and generate more force, Pereles said.
Pereles said that some running experts believe it may take more than three to five minutes of stretching to ward off injury, but his study tried to mimic what the typical jogger does before a run.
Despite the findings, don't give up on stretching entirely, said Dr. Edward McDevitt, physician for the U.S. Naval Academy men's and women's basketball teams. As we age, the body becomes less flexible, something stretching can help prevent.
"I will continue to advise light stretching before exercise, for running or anything else," McDevitt said. "Stretching works on your flexibility. Maybe it won't prevent you from getting hurt, but it will help your overall health. Stretching is still a very important [part] of your daily fitness."
Experts note that research presented at meetings has not been subjected to the same type of rigorous scrutiny given to research published in peer-reviewed medical journals.
More information
The National Institute of Arthritis and Musculoskeletal and Skin Diseases has more on sports injury prevention.
Source: HealthDay
​