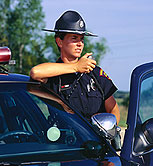 FRIDAY, Feb. 28, 2014 (HealthDay News) — Police have low on-the-job levels of physical activity and burn only as much energy as someone washing dishes, according to a new study.
"We find that police work is primarily sedentary," Sandra Ramey, an assistant professor in the College of Nursing at the University of Iowa, said in a university news release.
"The public view, how the media portray it on shows like 'Hawaii Five-0,' it's just go, go, go — it's an intense, high-activity profession. But it's not. It's more like bursts of energy, with long periods of little activity," she explained.
Ramey and colleagues used wearable armband monitors to collect data about physical activity levels in 119 municipal and university campus police officers in six departments in the Midwest and Hawaii.
The officers expended an average of 1.6 "metabolic equivalents" per minute while on duty, which is about the amount of energy used while washing dishes or ironing while standing, or holding a baby while reclining.
"In other words, the physical demands of police work are generally comparable to sitting or standing," the researchers wrote in the study recently published in the Journal of Occupational and Environmental Medicine.
In general, rank-and-file police officers moved more than higher-ranking ones, and university police were more active than their municipal counterparts.
"The take-home message is police officers are in a sedentary profession, and we now have something beyond self-report that shows that," Ramey said.
"The police are not alone, in that most jobs are associated with using higher technology at the expense of physical activity in the workplace. And, so what it means is that other occupations, like police, should increase movement on the job," she added.
Being inactive boosts the risk of cardiovascular disease, the leading cause of death in the United States, according to the U.S. Centers for Disease Control and Prevention.
More information
The U.S. Centers for Disease Control and Prevention has more about physical activity.
Copyright © 2022 HealthDay. All rights reserved.