Kids With Coordination Disorder More Likely to Be Overweight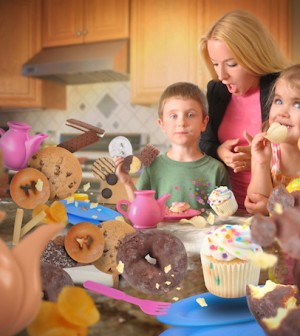 MONDAY, June 28Children with a condition known as developmental coordination disorder are at greater risk of being overweight or obese than other youngsters, a new study finds.
Developmental coordination disorder (DCD), affects about one in 20 school-aged children and is characterized by coordination problems, including difficulty with fine and gross motor skills. The condition can interfere with normal activities such as personal care, sports and other types of recreation, along with school skills such as handwriting.
The Canadian study included 1,979 children from 75 schools in the province of Ontario who were followed from grade 4 through grade 7. The researchers screened the children for DCD and measured their body-mass index (BMI) and waist circumference.
Compared to other children, those diagnosed with possible DCD were three times more likely than typical children to be overweight and at increased risk for obesity.
The study appears in the current issue of the Canadian Medical Association Journal.
"Although DCD has in the past been considered part of the normal continuum of motor proficiency or regarded as merely a 'playground disorder' that can be relegated to a secondary position in the universe of children's health concerns, these results, along with other recent research, suggest that this is no longer acceptable," Dr. John Cairney, Department of Family Medicine, McMaster University, Hamilton, and colleagues, said in a news release from the journal.
"The findings have important implications for intervention. There is a clear need to take a broader, longer-term view of the health consequences of DCD," they concluded.
In a related commentary, Scott Montgomery, of Orebro University Hospital in Sweden, noted that it's plausible that poorer coordination may result in reduced physical activity and, in turn, unhealthy weight gain, but cautions that other factors — such as family stress and socioeconomic issues — may also be at play.
Other experts have noted several problems affecting DCD research, which include the fact that there are no biological markers for the condition; genetic factors, if relevant, are not well-understood; and screening is problematic.
More information
The MedlinePlus Encyclopedia has more about developmental coordination disorder.
Source: HealthDay
​