Heel-First Walking Conserves Energy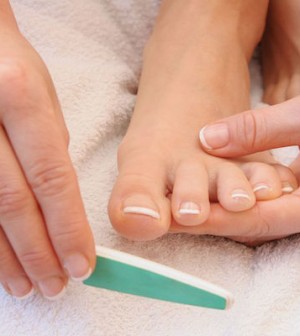 FRIDAY, Feb. 12It takes far less energy to walk heel-first than to walk on the balls of your feet or on your toes, a new study has found.
Compared with heel-first walking, it takes 83 percent more energy to walk on your toes and 53 percent more energy to walk on the balls of your feet, according to the University of Utah researchers. They measured energy expenditure in 27 volunteers in their 20s, 30s and 40s as they walked or ran using the three different methods.
"Our study shows that the heel-down posture increases the economy of walking but not the economy of running. You consume more energy when you walk on the balls of your feet or your toes than when you walk heels first," study senior author David Carrier, a biology professor, said in a university news release.
He said economical heel-first walking would have helped early human hunter-gatherers travel long distances to find food. In addition, a heel-first foot posture "may be advantageous during fighting by increasing stability and applying more torque to the ground to twist, push and shove. And it increases agility in rapid turning maneuvers during aggressive encounters."
The study results were released online Feb. 12 in advance of publication in the March 1 print issue of the Journal of Experimental Biology.
"Most mammals — dogs, cats, raccoons — walk and run around on the balls of their feet. Ungulates like horses and deer run and walk on their tiptoes. Few species land on their heel: bears and humans and other great apes — chimps, gorillas, orangutans," Carrier said.
"Lots of elite athletes, whether sprinters or distance runners, don't land on their heel. Many of them run on the balls of their feet," as do people who run barefoot, he added.
More information
The U.S. National Institute of Diabetes and Digestive and Kidney Diseases explains the health benefits of walking.
Source: HealthDay
​