County-By-County Report Sizes Up Americans' Health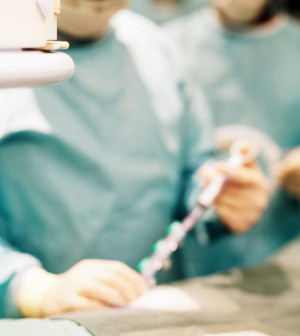 WEDNESDAY, Feb. 17Want to know how healthy your county is?
Now you can find out.
A new ranking of nearly every county in the nation shows significant disparities in the overall health of residents, depending on where they live.
Researchers from University of Wisconsin's Population Health Institute and the Robert Wood Johnson Foundation used data on premature deaths, self-reports about health and factors such as smoking rates, obesity, teen births, the percentage of children in poverty and number of liquor stores vs. grocery stores to rank more than 3,000 counties nationwide against others in their state.
Researchers then chose each state's healthiest county and compared it to each state's unhealthiest county. Among the findings:
Suburban and urban counties tend to be healthier than rural counties. About 48 percent of the healthiest counties were urban or suburban, while 84 percent of the unhealthiest counties were rural.
The unhealthiest counties had 2.5 times the premature death rate, or people who die under age 75, than the healthiest counties.
Residents of the unhealthiest counties were more than twice as likely to consider themselves in fair or poor health than those in the healthiest counties.
Those in the least healthy counties were 60 percent more likely to be admitted to the hospital for a preventable conditions. Misuse of hospitals for non-emergency or preventable conditions is often a symptom of not having access to outpatient care and primary care doctors, either because of lack of insurance or lack of providers.
Children are three times more likely to live in poverty in the least healthy counties (30 percent) compared to the healthiest counties (9 percent).
Counties ranked the unhealthiest are less likely to have at least one grocery store where people can buy healthy foods such as fresh produce. About 33 percent of zip codes in the unhealthiest counties had a grocery store, while 47 percent of zip codes in the healthiest counties had a grocery store.
Dr. Patrick Remington, associate dean for public health at the University of Wisconsin, said the rankings are a call to action for state and local social service providers, environmental health experts, health care professionals, educators, elected officials and other community leaders to identify where their region is falling short and how they can improve.
"Whenever you rank people or places or teams or colleges, people pay attention. They want to know where they are on the list and they want to know what factors were included in the ranking," Remington said. "Everyone in the nation can look at this report and see how the health of where they live or work compares to their neighboring counties and to other counties in the state."
In the study, researchers ranked counties on two overall measures: health outcomes, which included information on mortality, self-reported health and low birth weight babies; and about 25 other factors that can impact health but don't directly measure it. Those factors included rates of motor vehicle accidents, uninsured adults and violent crime; the number of primary care doctors in an area and usage of hospice for the terminally ill; measures of air pollution, liquor store density and the percentage of high school and college graduates.
Because each state collects data differently, the study ranks states only against others in the same state, Remington explained. That also means that one state's "unhealthy" could be another state's "healthy" and vice versa.
For example, it's possible that a relatively unhealthy county in a state such as Vermont, which was ranked the healthiest in the nation by a recent report, "America's Health Rankings," could actually be healthier than a relatively healthy county in Mississippi, ranked the least healthy state.
Maggie Elehwany, vice president of government affairs and policy for the non-profit National Rural Health Association, said she was not surprised to see that rural counties tended to have poorer overall health.
"We believe there are greater health disparities in rural counties," Elehwany said. "It's an older population per capita, a sicker population per capita, which means they have more heart disease and diabetes, and it's a poorer population per capita, which means they are more dependent on state and federal programs such as Medicaid and Medicare."
Rural areas also tend to have higher rates of people without any health insurance at all, as well as a lack of primary care doctors. When you couple those factors with the sheer distances people have to travel to seek medical care, getting proper treatment and follow up for chronic illnesses often doesn't happen, Elehwany explained.
About 20 percent to 25 percent of the U.S. population live in rural areas, she added.
More information
You can view the County Health Rankings Report.
Source: HealthDay
​