Better Vision Tied to Health Plans That Cover Eye Exams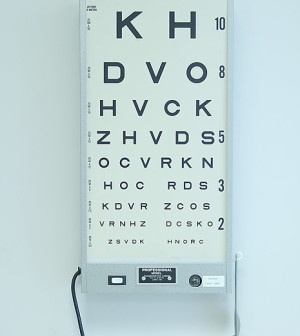 MONDAY, Dec. 10Working-age adults who have vision insurance have better eyesight than those without insurance, new research indicates.
The study included more than 30,000 people, aged 40 to 64, in the United States. About 40 percent of the participants had no vision insurance.
People with vision insurance were more likely to report having periodic eye examinations and, on average, those who had such a checkup in the previous year had better eyesight. The findings highlight the long-term benefits of vision insurance for preventing vision problems, according to study author Yi-Jhen Li, of the University of South Carolina in Columbia, S.C., and colleagues.
Their study was published online Dec. 10 in the Archives of Ophthalmology.
"Lack of vision insurance impedes eye-care utilization, which, in turn, may irrevocably affect vision. Vision insurance for preventive eye care should cease to be a separate insurance benefit and should be mandatory in all health plans," Li's team said in a journal news release.
With periodic eye checkups, vision loss or impairment due to age-related eye diseases such as glaucoma, macular degeneration and cataracts, or other causes, can be found in time to prevent irreversible loss of eyesight, the study authors pointed out in the release.
More information
The U.S. National Eye Institute has more about eye examinations.
Source: HealthDay
​