Without Chickenpox Shot, Kids' Risk Rises Ninefold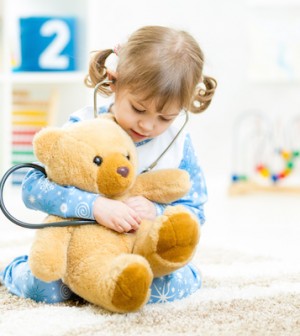 MONDAY, Jan. 4Children whose parents refuse to have them vaccinated for chickenpox have a ninefold greater chance of contracting the disease than those who are vaccinated, a new study finds.
The finding should serve as a red flag for an increasing number of American parents who are foregoing child vaccinations for various reasons, experts said.
The new results could also "help parents make more informed decisions," said study senior author Jason Glanz, a research investigator at the Kaiser Permanente Institute for Health Research in Denver and senior author of a report on the findings.
"When vaccines are discussed, parents are told about their benefits and possible risks," Glanz said. "They aren't told about the risks associating with not vaccinating."
He and his colleagues published their findings in the January issue of Archives of Pediatrics and Adolescent Medicine.
The Kaiser team have started a series of studies aimed at determining the risk involved in refusing vaccination for common childhood diseases. The first, published in 2009, found that children not given the vaccine for pertussis (whooping cough) have a 23-fold higher risk for contracting the disease than children who were vaccinated.
In the new study, the researchers identified 133 confirmed cases of chickenpox, formally called varicella, among almost 87,000 children whose parents were members of the Kaiser Permanente health plan. They were compared with 493 children in the same age group who did not have the disease. Seven of the children with the disease, 5 percent of the group, had not been vaccinated, compared with just three — or 0.6 percent — of those who did not have chickenpox.
Glanz said that the number of parents who reject one or more vaccines for childhood diseases, including chickenpox, has increased. Ironically, one reason may lie in the vaccines' effectiveness.
"Immunization does such a good job of eliminating the disease that parents are less concerned about that risk," Glanz said. "Instead, concern has shifted to the safety of the vaccines."
For instance, fear that childhood vaccination might be linked to an increased incidence of autism still exists, although a series of studies have found no such linkage, Glanz said.
Also, many parents don't view chickenpox as a serious problem, he said, although before the vaccine was introduced in 1995 chickenpox hospitalized 10,000 American children a year and killed 100 of them.
"We're hoping to say to a parent, 'You do what is best for your child,'" Glanz said. "Many parents think the child is not at risk and that the disease is not serious. Our studies show that children are at risk — and at risk for what is potentially a dangerous disease."
The new study offers "an insight into the obvious," said Dr. Paul A. Offit, director of the Vaccine Education Center and chief of infectious diseases at the Children's Hospital of Philadelphia. "If you choose not to get a vaccine, you're more likely to get the disease."
One reason parents refuse to have their children vaccinated is "just a general sense that children are getting too many vaccines too soon," Offit said. But that feeling ignores not only the immediate damage a childhood disease can cause but also, in the case of chickenpox, longer-term harmful effects, he said.
A chickenpox infection can linger in the body for decades, eventually causing the skin condition shingles and increasing the risk for stroke, Offit noted.
"If vaccines work, you should get them," he said.
More information
The U.S. Centers for Disease Control and Prevention has more about chickenpox.
Source: HealthDay
​