Study Affirms What Many Know: Antidepressants May Lead to Weight Gain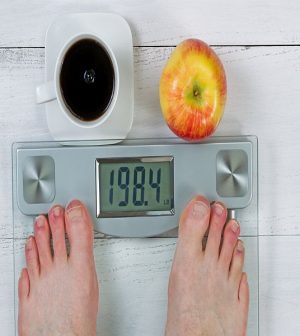 If you're taking an antidepressant, you're likely to gain weight, a new study out of Britain reports.
That's a finding that generated little surprise among mental health experts.
"Psychiatrists have known about it, written about it and heard their patients talk about it for decades," said Dr. Brian Keefe, a psychiatrist and medical director at Zucker Hillside Hospital in Glen Oaks, N.Y. He was not involved with the new research.
In the study, patients who used any of a dozen common antidepressants were 21 percent more likely than others to put on an extra 5 to 8 pounds, the study authors said.
The study doesn't prove that the drugs caused weight gain, according to its lead author, only that there's a link that may help explain the rise in obesity.
"It's important to stress that no patients should stop taking their medication and if they have any concerns, they should speak to their doctor or pharmacist," said Dr. Rafael Gafoor, a psychiatrist at King's College London who led the study.
He noted that the increased risk of weight gain peaked at two to three years of continuous use and lasted up to six years. Gafoor said researchers aren't sure why the added pounds didn't show up sooner.
But they were enough to push some people from a normal weight to overweight or obesity — a 29 percent increased risk compared with those not taking antidepressants.
Among people already overweight, antidepressants boosted the risk of becoming obese by 29 percent, the researchers said.
One U.S. expert said his patients have experienced various outcomes with antidepressants.
"What I've seen is that some patients don't gain weight, some gain a lot of weight, and some lose weight," said Dr. Jamie Kane, director of the Northwell Health Center for Weight Management at Syosset Hospital, N.Y.
He said patients who gain weight while taking antidepressants need to try to eat a healthy diet and exercise more.
Alternatives are available for those who don't do well on antidepressants. These include talk therapy and increased exercise, Kane said.
For the study, Gafoor's team collected data on nearly 300,000 men and women between 2004 and 2014. About 20 percent of them were taking antidepressants.
The researchers noted any weight gain of at least 5 percent.
For every 100 people using antidepressants, 11 people a year gained weight, the study found. That compared to 8 per 100 of those not on the medications.
During the second and third years of taking antidepressants, a patient's risk of a 5 percent weight gain was about 46 percent higher than that of nonusers, researchers found.
The study looked at 12 common antidepressants: Remeron, Cymbalta, Zoloft, Effexor, Celexa, Prozac, Lexapro, Desyrel, Elavil, Paxil, Pamelor and Prothiaden.
As with all medical treatments, patients and their doctors must weigh the benefits of antidepressants against potential drawbacks, Keefe said.
"Untreated depression is almost always associated with misery and distress for patients, and can lead to disability and even suicide," he said. "Finding an antidepressant that actually relieves previously persistent sadness or anxiety is often the first priority for people who suffer from this illness."
The report was published May 23 in the journal BMJ.
More information
To learn more about antidepressants, visit the U.S. National Library of Medicine.
Are You Living with Psoriasis?
A growing knowledge of the skin disease called psoriasis is leading to greater treatment choices, including personalized therapies, the U.S. Food and Drug Administration reports.
Psoriasis is an immune system disorder that causes overproduction of skin cells, resulting in scaling, pain, swelling, redness and heat. The condition affects about 7.5 million Americans.
"As we better understand the disease, researchers know more about what specific factors to target in order to develop effective treatments," FDA dermatologist Dr. Melinda McCord said in an agency news release.
There is no cure for psoriasis, so the main goals of treatments are to stop skin cell overproduction and reduce inflammation. Current therapies include medicines applied to the skin (topical), light treatment (phototherapy), or drugs taken by mouth or given by injection.
Doctors used to take a step-by-step approach, starting patients with mild to moderate psoriasis on topical therapy. If that was ineffective, doctors moved on to phototherapy or drug treatment.
​