Patients Taking Antipsychotics Urged to Get Routine Physicals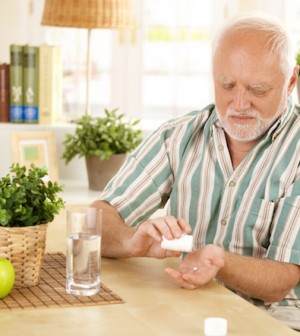 FRIDAY, Aug. 12Patients who take antipsychotic medications aren't being adequately monitored for dangerous health complications, researchers have found.
Known as "metabolic complications," these conditions are common among patients taking antipsychotic drugs. For example, up to 60 percent have lipid (blood fat) abnormalities such as high cholesterol, 40 percent have high blood pressure and 30 percent have metabolic syndrome. It's believed that about 90 percent of patients who take antipsychotic drugs have at least one metabolic risk factor, the researchers said.
Metabolic syndrome is the name for a group of risk factors that raise the risk for heart disease, diabetes and stroke. The risk factors include abdominal obesity, high blood fat levels, high blood pressure and high levels of blood sugar.
The risk of metabolic complications is especially high in schizophrenia patients treated with antipsychotics, according to the report published in the Aug. 10 online edition of the journal Psychological Medicine.
Despite strong evidence of the need for regular monitoring of patients taking antipsychotic drugs, it's overlooked in many cases, the researchers from England, Belgium and the United States found.
The international team reviewed 48 studies conducted in five countries between 2000 and 2011. The studies included a total of nearly 300,000 patients.
Only blood pressure and triglycerides were checked in more than half of the patients, while cholesterol, blood sugar (glucose) and weight were checked in less than half.
"This study highlights that psychiatrists are not always considering the metabolic complications of prescribed medication," study author Dr. Alex Mitchell, of the University of Leicester, said in a university news release. "One explanation is that responsibility is often lost between psychiatry and general practice. We recommend that mental health providers schedule physical health checks as a mandatory part of routine care."
More information
The U.S. National Institute of Mental Health has more about mental health medications.
Source: HealthDay
​