Oral Vaccine May Help People With COPD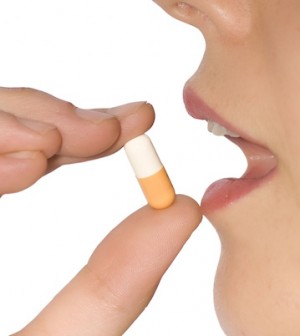 TUESDAY, April 6An experimental vaccine for chronic obstructive pulmonary disease (COPD), a progressive respiratory disease that afflicts millions of people, may reduce flare-ups in those with severe forms of the illness, new research finds.
Unlike regular childhood vaccinations or the flu shot, this vaccine, which is made from the bacteria that causes meningitis in children, does not prevent COPD but rather tames the severity, duration and frequency of flare-ups.
"It's not an ideal study but it is suggestive that using this novel oral vaccine can reduce the number of serious COPD exacerbations," said Dr. Norman H. Edelman, chief medical officer of the American Lung Association. "That's a very significant finding and could be a very, very useful tool in the management of severe COPD."
Dr. Len Horovitz, a pulmonary specialist with Lenox Hill Hospital in New York City, added, "they're modest results but certainly favorable and it would seem to be non-toxic."
COPD, which is usually caused by smoking, is the fourth leading cause of death in the United States and, said Edelman, is "a major, major problem."
Currently available treatments include flu and pneumonia shots to prevent infection, and oxygen and medications to improve quality of life. It's unclear if any of these interventions actually prolong life, Edelman said.
"There's not a lot new under the sun," Horovitz said.
Flare-ups of COPD seem to be caused by the wrong bacteria or the wrong proportion of bacteria in the airways, which results in inflammation.
"This [new study] is capitalizing on the theory that the inflammation responses due to colonization of bacteria is different in COPD," Horovitz explained."
The vaccine studied in the new trial, HI-164OV, is made from inactivated Haemophilus influenzae, the bacteria responsible for meningitis in children. The study authors, from Australia, were hoping that this inactivated bacteria would trigger a beneficial change in bacteria colonization.
The trial was a small one, involving only 38 people, all with severe COPD. The patients were randomly selected to receive either the new HI-164OV oral vaccine or a placebo along with best available treatment.
The study showed encouraging results.
Although overall COPD exacerbations only went down by 16 percent, moderate-to-severe exacerbations (those requiring corticosteroids) were reduced by 63 percent. The average length of an exacerbation declined by 37 percent, while antibiotics prescriptions declined 56 percent. And hospitalizations were reduced by 90 percent.
The findings were published in the April issue of the journal Chest.
Many of the study authors reported ties with Hunter Immunology Ltd., an Australian biopharmaceutical company that makes HI-164OV.
More information
The U.S. National Heart, Lung, and Blood Institute has more on COPD.
Source: HealthDay
​